Privacy Policy


This Policy applies as between you, the User of this Web Site and Canine Principles Ltd the owner and provider of this Web Site. This Policy applies to our use of any and all Data collected by us in relation to your use of the Web Site and any Services or Systems therein.
1. Definitions and Interpretation
In this Policy the following terms shall have the following meanings:
Account: means collectively the personal information, Payment Information and credentials used by Users to access Material and / or any communications System on the Web Site;
Content: means any text, graphics, images, audio, video, software, data compilations and any other form of information capable of being stored in a computer that appears on or forms part of this Web Site;
Cookie: means a small text file placed on your computer by Canine Principles Ltd when you visit certain parts of this Web Site. This allows us to identify recurring visitors and to analyse their browsing habits within the Web Site.
Data: means collectively all information that you submit to the Web Site. This includes, but is not limited to, Account details and information submitted using any of our Services or Systems;
Canine Principles: means Canine Principles Ltd
Service: means collectively any online facilities, tools, services or information that Canine Principles makes available through the Web Site either now or in the future;
System: means any online communications infrastructure that Canine Principles makes available through the Web Site either now or in the future. This includes, but is not limited to, web-based email, message boards, live chat facilities and email links;
User / Users: means any third party that accesses the Web Site and is not employed by Canine Principles and acting in the course of their employment; and
Website: means the website that you are currently using (www.canineprinciples.com) and any sub-domains of this site unless expressly excluded by their own terms and conditions.
2. Data Collected
Without limitation, any of the following Data may be collected:
2.1

name;
2.2

date of birth;
2.3

job title & profession;
2.4

contact information such as email addresses and telephone numbers;
2.5

demographic information such as post code, preferences and interests;
2.6

financial information such as credit / debit card numbers;
2.7

IP address (automatically collected);
2.8

web browser type and version (automatically collected);
2.9

operating system (automatically collected);
2.10

a list of URLS starting with a referring site, your activity on this Web Site, and the site you exit to (automatically collected); and
2.11

Cookie information (see Clause 10 below).
3. Our Use of Data
3.1

Any personal Data you submit will be retained by

Canine Principles

for as long as you use the Services and Systems provided on the Web Site. Data that you may submit through any communications System that we may provide may be retained for a longer period of up to one year.
3.2

Unless we are obliged or permitted by law to do so, and subject to Clause 4, your Data will not be disclosed to third parties. This includes our affiliates and / or other companies within our group.
3.3

All personal Data is stored securely in accordance with the principles of the Data Protection Act 1998. For more details on security, see Clause 9 below.
3.4

Any or all of the above Data may be required by us from time to time in order to provide you with the best possible service and experience when using our Web Site. Specifically, Data may be used by us for the following reasons:

3.4.1

internal record keeping;
3.4.2

improvement of our products / services;
3.4.3

transmission by email of promotional materials that may be of interest to you;
3.4.4

contact for market research purposes which may be done using email, telephone, fax or mail. Such information may be used to customise or update the Web Site.
4. Third Party Web Sites and Services
Canine Principles may, from time to time, employ the services of other parties for dealing with matters that may include, but are not limited to, payment handling, delivery of purchased items, search engine facilities, advertising and marketing. The providers of such services do not have access to certain personal Data provided by Users of this Web Site. Any Data used by such parties is used only to the extent required by them to perform the services that Canine Principles requests. Any use for other purposes is strictly prohibited. Furthermore, any Data that is processed by third parties must be processed within the terms of this Policy and in accordance with the Data Protection Act 1998.
5. Changes of Business Ownership and Control
5.1

Canine Principles

may, from time to time, expand or reduce its business and this may involve the sale of certain divisions or the transfer of control of certain divisions to other parties. Data provided by Users will, where it is relevant to any division so transferred, be transferred along with that division and the new owner or newly controlling party will, under the terms of this Policy, be permitted to use the Data for the purposes for which it was supplied by you.
5.2

In the event that any Data submitted by Users will be transferred in such a manner, you will be contacted in advance and informed of the changes. When contacted you will be given the choice to have your Data deleted or withheld from the new owner or controller.
6. Controlling Access to your Data
6.1

Wherever you are required to submit Data, you will be given options to restrict our use of that Data. This may include the following:

6.1.1

use of Data for direct marketing purposes; and
6.1.2

sharing Data with third parties.
7. Your Right to Withhold Information
7.1

You may access certain areas of the Web Site without providing any Data at all. However, to use all Services and Systems available on the Web Site you may be required to submit Account information or other Data.
7.2

You may restrict your internet browser's use of Cookies. For more information see Clause 10 below.
8. Accessing your own Data
8.1

You may access your Account at any time to view or amend the Data. You may need to modify or update your Data if your circumstances change. Additional Data as to your marketing preferences may also be stored and you may change this at any time.
8.2

You have the right to ask for a copy of your personal Data on payment of a small fee.
9. Security
Data security is of great importance to Canine Principles and to protect your Data we have put in place suitable physical, electronic and managerial procedures to safeguard and secure Data collected online.
10. Changes to this Policy
Canine Principles reserves the right to change this Privacy Policy as we may deem necessary from time to time or as may be required by law. Any changes will be immediately posted on the Web Site and you are deemed to have accepted the terms of the Policy on your first use of the Web Site following the alterations.
11. Contacting Us
If there are any questions regarding this privacy policy you may contact us at caninecourses@outlook.com
Sit! Stay! Wait!
Remember To Enrol On
Your
FREE

Course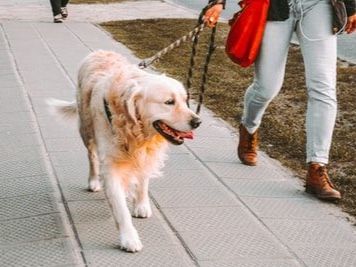 Loose Lead Walking
Help Centre
Canine Principles courses are externally accredited and have been reviewed by the accrediting body for quality and content.
Ofqual
courses are accredited by
UKRS
and meet all qualification requirements set out by the
Open College Network
. Each Ofqual course carries an 8 digit qualification number that can be referenced against the existing qualification framework.
CPD
courses are accredited by the
CPD Standards Office
.
All students must be aged 18 years+
Courses are assessed at the end of each module.
Ofqual Courses
Each module of an Ofqual course, typically includes 2 written exercises and represent the module as a whole. The final assessment for a diploma course brings together learning from all modules in the format of a thesis exercise. Word counts and referencing guidelines are made clear for each assessment. Tutors will score assessments based on the agreed learning objectives. Students must keep an evidence file of all assessments for Ofqual auditing purposes.
CPD Diploma Courses Each module of a diploma course, typically includes a set of 10 multiple choice revision questions, followed by a written exercise. Revision questions focus on individual subjects from each module. Exercises are presented as a practical or theory question and represent the module as a whole. The final assessment for a diploma course brings together learning from all modules in the format of a thesis exercise. Word counts and referencing guidelines are made clear for each assessment. Tutors will score assessments based on the agreed learning objectives.
CPD Certificate Courses The format may vary, dependent on the course. Typically, each module of a certificate course includes 5 - 10 revision questions and a single exercise. Tutors will score assessments based on the agreed learning objectives.

Self Study Courses These courses are assessed via multiple choice quizzes.
Enrol on your chosen course directly from the course overview page.
Enrolled courses can be accessed anytime via the
student dashboard
. Once you are logged in to you account, select your course and you will be taken directly to the learning materials.
Online elements require an internet connection and suitable device.
Course books can be studied online or downloaded for offline reading.
Solutions to common account issues:
Course(s) not showing on dashboard
Skill-Hub courses are only available while there is an active subscription. Check
your account
to show the most recent payments and membership expiry.
Occasionally, students have more than one account as they have signed up for a free course or newsletter with a different email. Contact us using the form to solve this issue.
Email not recognised
Check all spelling is correct. Check the email account for previous correspondence from Canine Principles. If everything seems normal, contact us using the form to solve this issue.
Password Reset
You can manage your password
here
.
Manage subscription
You can manage your subscription settings directly from your
student account page
.
We welcome students of
any age
*
,
education
or
previous experience
. Occasionally, our courses will require some prior learning. This will always be made clear in the course description.
(*All students must be aged 18 years+)
Canine Principles
Skill-Hub
is a monthly/annual subscription learning service. Membership allows unlimited* access to all self-study courses, workshops and webinars. Some courses and workshops are exclusive to the Skill-Hub, including the Skill-Hub members area, including presentations, interviews and webinars from a variety of Canine Professionals.
The 3 day free trial requires credit/debit card details to begin. Your card will be billed automatically when the trial expires and every month subsequently.
You can
manage your subscription here
.
We currently have students and graduates from over 30 countries worldwide. Online learning allows us to support all students, no matter where in the world you may be.
All courses are online study. You will not need to travel for assessments.
All Courses are written in the English language.
Ofqual course qualifications only apply to students from the UK.
Canine Principles offers both self-paced and time sensitive courses.

Self-paced - All CPD Diploma Courses, CPD Certificate Courses, Workshops, Webinars and Self Study Courses are completely self-paced learning with no deadlines for assessments or completion.

Ofqual Qualifications - All Ofqual courses inherit a 2 year registration period. The cost of registration is included with initial enrolment. When the 2 year registration period expires, students may re-register for a £70 registration fee.
Canine Principles pledges to teach only kind, force-free, positive methods that promote mental and physical well-being for dogs, in line with current scientific research. Our courses occasionally discuss the use of other training methods, with the intention of providing education in why these approaches are ineffective and harmful to learning.
You will receive
positive
,
personal feedback
from Tutors who are always available to answers any questions and guide you through your learning experience. Tutors will respond to assessments within 48 hours (72 hours during weekends)
Students are also encouraged to support each other through built in
s
tudent community
and private
Facebook Study Group
. where discussions and new information are shared daily.