Often, strangers try to touch or interact with dogs without asking their permission, or in some cases they don't even ask ours. It's perfectly natural for us to want to love every dog we see. The problem is not all dogs want to be fiddled with by strangers and here's how they tell us.

Dogs get worried and scared of things they think may be threatening to them just like we do, so even if the excited stranger is friendly they can make our dogs feel tense. Our job as their responsible and empathetic guardians is to read the earliest signs of worry that it's possible to see, then change the thing that's starting to stress them, and deal with it to make them feel better. Dogs often make their feelings clear to keen fussers, and grabby strangers but many people don't understand their requests. Here are some common dog requests that can be easily missed.


"I'm not sure about this"

Licking their lips or nose, most dogs lick their faces or lips if they are feeling uneasy, a big wide and slow tongue means the dog is very uneasy indeed.


Yawning when approached or when something changes in the environment can tell us that the change is making them uneasy.


Tension around the lips and eyes may show the onset of fear and stress. The tension is something that is extremely subtle, and you might really need to look for it. Pinched lips are a sign that a dog is worried.



A tense face may lead to a half moon eye, showing more of the eye white than a relaxed dog would.
"Please leave me alone"
A lowered head or head dip occurs when the dog's head goes below the line along the dog's back. A head dip is a subtle sign but very expressive.


A lowered tail position by a dog who feels worried will always be lower than their tail's neutral position. A tucked tail and body meant that the dog is starting to become more worried.


A slightly changed ear position, ears that go out to the side of the head, even by a little bit, may show "go away" communication.


Ears that go backwards may be telling us that the dog is scared. This is known as seal ears. A dog with long or heavy ears, for example a Cocker Spaniel may pinch them into the side of her head.


Averting their eyes away from the thing that worries them, including you is a cut off signal, used to tell us they really don't want to interact. The dog who averts their eyes may also turn their head away.


Head turning, looking away and ignoring are displayed in a way that almost appears like the dog thinks if she can't see the stressor, it is not there. This behaviour can be an important sign of low-level stress but is also common in the state of learned helplessness. Some dogs will look at the wall to avoid being looked at.
Remember to look beyond the hair and into the dog's actual behaviour.
Eye narrowing, and blinking are signs that a stress reaction might be starting, she may also show a dilated pupil depending on how quickly she is getting stressed.


"I'm busy. Can't you see I'm changing the subject?"


Sniffing when confused or unsure is a type of conflicted behaviour. The dog can see the stressor but decides to change the subject.


Picking a toy up is another sign of confusion or displacement behaviour.


The dog may scratch himself like he's carrying a million fleas, suddenly and out of nowhere. Which is an attempt to change the subject.


"Thank goodness that's over!"

Shaking off occurs when a dog has passed through mild stress and is returning to normal we often see this when a harness or collar is removed or when an anxious dog comes through their own front door after a walk outside. A shake off appears like the dog is shaking water from their coat and can occur when they manage to escape from someone who is determined to interact with them.

There are many other types of behaviour that will occur if a dog is not left alone after these few early requests. They might even get defensive if they can't escape a scary place or person. It's all based on a change in their physiology related to increasing stress though, and they sincerely can't help it.
Start Your FREE Skill-Hub

Trial

Today
Commitment Free 3 Day Access
Canine Principles' Skill-Hub allows unlimited
*
access to
ALL
self-study courses, workshops & webinars.
*Requires Monthly Subscription. See Skill-Hub Subscription Page For Details.
Sit! Stay! Wait!
Remember To Enrol On
Your
FREE

Course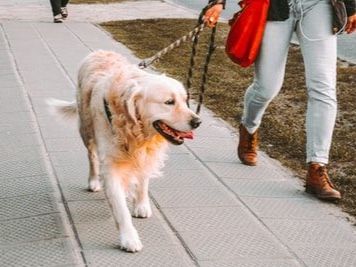 Loose Lead Walking
Help Centre
Canine Principles courses are externally accredited and have been reviewed by the accrediting body for quality and content.
Ofqual
courses are accredited by
UKRS
and meet all qualification requirements set out by the
Open College Network
. Each Ofqual course carries an 8 digit qualification number that can be referenced against the existing qualification framework.
CPD
courses are accredited by the
CPD Standards Office
.
All students must be aged 18 years+
Courses are assessed at the end of each module.
Ofqual Courses
Each module of an Ofqual course, typically includes 2 written exercises and represent the module as a whole. The final assessment for a diploma course brings together learning from all modules in the format of a thesis exercise. Word counts and referencing guidelines are made clear for each assessment. Tutors will score assessments based on the agreed learning objectives. Students must keep an evidence file of all assessments for Ofqual auditing purposes.
CPD Diploma Courses Each module of a diploma course, typically includes a set of 10 multiple choice revision questions, followed by a written exercise. Revision questions focus on individual subjects from each module. Exercises are presented as a practical or theory question and represent the module as a whole. The final assessment for a diploma course brings together learning from all modules in the format of a thesis exercise. Word counts and referencing guidelines are made clear for each assessment. Tutors will score assessments based on the agreed learning objectives.
CPD Certificate Courses The format may vary, dependent on the course. Typically, each module of a certificate course includes 5 - 10 revision questions and a single exercise. Tutors will score assessments based on the agreed learning objectives.

Self Study Courses These courses are assessed via multiple choice quizzes.
Enrol on your chosen course directly from the course overview page.
Enrolled courses can be accessed anytime via the
student dashboard
. Once you are logged in to you account, select your course and you will be taken directly to the learning materials.
Online elements require an internet connection and suitable device.
Course books can be studied online or downloaded for offline reading.
Solutions to common account issues:
Course(s) not showing on dashboard
Skill-Hub courses are only available while there is an active subscription. Check
your account
to show the most recent payments and membership expiry.
Occasionally, students have more than one account as they have signed up for a free course or newsletter with a different email. Contact us using the form to solve this issue.
Email not recognised
Check all spelling is correct. Check the email account for previous correspondence from Canine Principles. If everything seems normal, contact us using the form to solve this issue.
Password Reset
You can manage your password
here
.
Manage subscription
You can manage your subscription settings directly from your
student account page
.
We welcome students of
any age
*
,
education
or
previous experience
. Occasionally, our courses will require some prior learning. This will always be made clear in the course description.
(*All students must be aged 18 years+)
Canine Principles
Skill-Hub
is a monthly/annual subscription learning service. Membership allows unlimited* access to all self-study courses, workshops and webinars. Some courses and workshops are exclusive to the Skill-Hub, including the Skill-Hub members area, including presentations, interviews and webinars from a variety of Canine Professionals.
The 3 day free trial requires credit/debit card details to begin. Your card will be billed automatically when the trial expires and every month subsequently.
You can
manage your subscription here
.
We currently have students and graduates from over 30 countries worldwide. Online learning allows us to support all students, no matter where in the world you may be.
All courses are online study. You will not need to travel for assessments.
All Courses are written in the English language.
Ofqual course qualifications only apply to students from the UK.
Canine Principles offers both self-paced and time sensitive courses.

Self-paced - All CPD Diploma Courses, CPD Certificate Courses, Workshops, Webinars and Self Study Courses are completely self-paced learning with no deadlines for assessments or completion.

Ofqual Qualifications - All Ofqual courses inherit a 2 year registration period. The cost of registration is included with initial enrolment. When the 2 year registration period expires, students may re-register for a £70 registration fee.
Canine Principles pledges to teach only kind, force-free, positive methods that promote mental and physical well-being for dogs, in line with current scientific research. Our courses occasionally discuss the use of other training methods, with the intention of providing education in why these approaches are ineffective and harmful to learning.
You will receive
positive
,
personal feedback
from Tutors who are always available to answers any questions and guide you through your learning experience. Tutors will respond to assessments within 48 hours (72 hours during weekends)
Students are also encouraged to support each other through built in
s
tudent community
and private
Facebook Study Group
. where discussions and new information are shared daily.