All dog professionals have two main things in common...
One, their love and passion for dogs and two, the habit of disregarding the need for self-care. Self-care is engaging in activities that preserve and improve our mental, emotional and physical health. Unfortunately, we likely don't take any time for ourselves to engage in such activities, unless we feel particularly ill or we have a family emergency. Ironically, when we become stressed, self-care is often last on our list of priorities, even though it's the very thing we need. When we fail to acknowledge this, burn out is inevitable.


Burn out results in the very thing we've been striving to avoid; failure to meet the demands of our job and life. When we are both physically and emotionally exhausted, we've got nothing left to give, leading to feelings of worthlessness and pessimism. Such negative feelings immobilise us and can make it impossible to seek out things that replenish and inspire us.

"You can't pour from an empty cup."- Unknown
Self-care can be likened to filling a cup. If the cup is empty, nothing can be poured out until we refill it. Engaging in hobbies, going on holiday, spending quality time with friends and family, disconnecting from social media and any other positive experiences can help to fill our cup, enabling us to be energetic, organised, and productive. In contrast, long work hours, conflict on social media, distance from friends and family and any other negative experiences can empty our cup, which rids us of energy, reduces productivity and diminishes our joy and passion.


Each one of us has the power to fill or empty each other's cups. For instance, clients have the ability to fill or empty our cups by the way they treat us. When we have a great training session and the client is enthusiastic and grateful, we can feel a buzz. We experience joy and feel inspired, thereby replenishing our cup. On the other hand, if we have clients that are pessimistic and unwilling to cooperate, we can feel tired and frustrated. We may also experience compassion fatigue, because we are desperate to help the dogs we are working with and feel powerless to do so. Such feelings empty our cup, making it difficult to give our best to other clients.


Therefore, it's important to try avoiding or eliminate anything that empties our cup, where possible, and make time for the things that fill it. While we can't necessarily avoid all negative experiences, we can ensure that we plan to decompress when they occur. If you work as a dog trainer, you likely spend a lot of time discussing stress management and the importance of providing activities that help dogs decompress. Despite this, we often don't practice what we preach. Engaging in calming activities that we enjoy, is an excellent way to relax and recover from stress.
"Self-care is not self-indulgence, it's self-preservation."- Audre Lorde


It doesn't matter how hard we work; we can still battle with feelings of guilt, the moment we take any time for ourselves, because it seems self-indulgent. Rather than enjoying a rest, we often dwell on all the things we should be doing, resulting in no rest at all. When we are wrestling with these feelings, we need to look at it objectively. Consider an example. When you are on a plane, the flight attendants perform a safety demonstration for emergencies, instructing you to put your own oxygen mask on before you help others to put their masks on. Why? If you do not ensure your own safety first, you will be in no position to help others. The same is true of self-care. If we have no energy, no time to rest and no opportunities to look after our own needs, how can we help to meet the needs of others?


Ensuring that we make time for self-care puts us in the best position to help others, because it protects us from burning out. Thus, self-care is not selfish or self-indulgent, it is self-preservation.
"Self-care means giving the world the best of you, instead of what's left of you." – Katie Reed


If you don't ensure that you regularly refill your cup, you can only give other's what is left. That may mean you can't provide enough time or support to others. It would be like offering someone the dregs of the cup. Although we may want to please everybody, we must learn that it is okay to say "no". We have to be realistic and avoid over stretching ourselves to the point where we have nothing left to give. If we get to this point, our self-esteem is negatively affected because we feel we aren't trying our best, when actually, we are setting ourselves up to fail. So, while self-care may seem selfish, in reality it ensures we have the energy and resources to help others to the best of our ability.


Finally, it's vital to have self-compassion. This involves being gentle, kind and understanding to ourselves. This isn't promoting putting ourselves above everyone else, rather it's the inclusion of our own needs in the equation. You may have clients whose personal cup is empty due to their own struggles. How can you help replenish their cup if your own is also empty? Just think, when you are good to yourself, you have more to give others. Life can be hard enough, without us adding more pressure and denying ourselves the very thing we need to keep going.


Prioritise self-care and keep your cup full.
Start Your FREE Skill-Hub

Trial

Today
Commitment Free 3 Day Access
Canine Principles' Skill-Hub allows unlimited
*
access to
ALL
self-study courses, workshops & webinars.
*Requires Monthly Subscription. See Skill-Hub Subscription Page For Details.
Sit! Stay! Wait!
Remember To Enrol On
Your
FREE

Course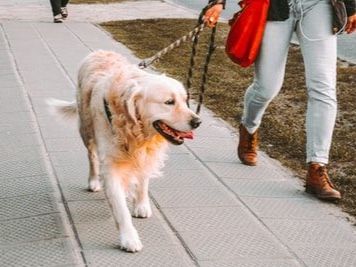 Loose Lead Walking
Help Centre
Canine Principles courses are externally accredited and have been reviewed by the accrediting body for quality and content.
Ofqual
courses are accredited by
UKRS
and meet all qualification requirements set out by the
Open College Network
. Each Ofqual course carries an 8 digit qualification number that can be referenced against the existing qualification framework.
CPD
courses are accredited by the
CPD Standards Office
.
All students must be aged 18 years+
Courses are assessed at the end of each module.
Ofqual Courses
Each module of an Ofqual course, typically includes 2 written exercises and represent the module as a whole. The final assessment for a diploma course brings together learning from all modules in the format of a thesis exercise. Word counts and referencing guidelines are made clear for each assessment. Tutors will score assessments based on the agreed learning objectives. Students must keep an evidence file of all assessments for Ofqual auditing purposes.
CPD Diploma Courses Each module of a diploma course, typically includes a set of 10 multiple choice revision questions, followed by a written exercise. Revision questions focus on individual subjects from each module. Exercises are presented as a practical or theory question and represent the module as a whole. The final assessment for a diploma course brings together learning from all modules in the format of a thesis exercise. Word counts and referencing guidelines are made clear for each assessment. Tutors will score assessments based on the agreed learning objectives.
CPD Certificate Courses The format may vary, dependent on the course. Typically, each module of a certificate course includes 5 - 10 revision questions and a single exercise. Tutors will score assessments based on the agreed learning objectives.

Self Study Courses These courses are assessed via multiple choice quizzes.
Enrol on your chosen course directly from the course overview page.
Enrolled courses can be accessed anytime via the
student dashboard
. Once you are logged in to you account, select your course and you will be taken directly to the learning materials.
Online elements require an internet connection and suitable device.
Course books can be studied online or downloaded for offline reading.
Solutions to common account issues:
Course(s) not showing on dashboard
Skill-Hub courses are only available while there is an active subscription. Check
your account
to show the most recent payments and membership expiry.
Occasionally, students have more than one account as they have signed up for a free course or newsletter with a different email. Contact us using the form to solve this issue.
Email not recognised
Check all spelling is correct. Check the email account for previous correspondence from Canine Principles. If everything seems normal, contact us using the form to solve this issue.
Password Reset
You can manage your password
here
.
Manage subscription
You can manage your subscription settings directly from your
student account page
.
We welcome students of
any age
*
,
education
or
previous experience
. Occasionally, our courses will require some prior learning. This will always be made clear in the course description.
(*All students must be aged 18 years+)
Canine Principles
Skill-Hub
is a monthly/annual subscription learning service. Membership allows unlimited* access to all self-study courses, workshops and webinars. Some courses and workshops are exclusive to the Skill-Hub, including the Skill-Hub members area, including presentations, interviews and webinars from a variety of Canine Professionals.
The 3 day free trial requires credit/debit card details to begin. Your card will be billed automatically when the trial expires and every month subsequently.
You can
manage your subscription here
.
We currently have students and graduates from over 30 countries worldwide. Online learning allows us to support all students, no matter where in the world you may be.
All courses are online study. You will not need to travel for assessments.
All Courses are written in the English language.
Ofqual course qualifications only apply to students from the UK.
Canine Principles offers both self-paced and time sensitive courses.

Self-paced - All CPD Diploma Courses, CPD Certificate Courses, Workshops, Webinars and Self Study Courses are completely self-paced learning with no deadlines for assessments or completion.

Ofqual Qualifications - All Ofqual courses inherit a 2 year registration period. The cost of registration is included with initial enrolment. When the 2 year registration period expires, students may re-register for a £70 registration fee.
Canine Principles pledges to teach only kind, force-free, positive methods that promote mental and physical well-being for dogs, in line with current scientific research. Our courses occasionally discuss the use of other training methods, with the intention of providing education in why these approaches are ineffective and harmful to learning.
You will receive
positive
,
personal feedback
from Tutors who are always available to answers any questions and guide you through your learning experience. Tutors will respond to assessments within 48 hours (72 hours during weekends)
Students are also encouraged to support each other through built in
s
tudent community
and private
Facebook Study Group
. where discussions and new information are shared daily.