Does your dog struggle with strangers? Are they nervous around people in hats and beards? Do they get anxious when someone knocks at the door? If your answer to all 3 of these questions is yes, then Halloween can be just as scary for your dogs as it is supposed to be for us. Unlike Guy Fawkes, Halloween thankfully only lasts 24 hours, at least as far as trick and treating is concerned, however, it can still be a very stressful day for dogs.


While there are lots of ways to train your dog to be more resilient around strangers and people at the door, we have to acknowledge that there will be some dogs that will still always struggle to some degree, due to the severity of their anxiety. Therefore, this blog is written for those dogs; those that will benefit more from management rather than training, in order to keep them as comfortable and as calm as possible during this holiday. So how can you prepare your anxious dog for Halloween?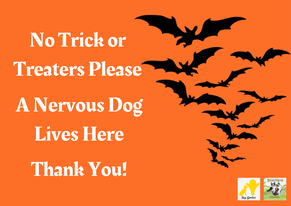 Our fellow dog writer, canine professional and Canine Principles tutor,
Jay Gurden
made a brilliant suggestion based on her own experiences with her handsome but anxious collie Finn, to create a note to trick or treaters. (She has kindly given permission for you to use the one she has created, seen featured.)

This note can be handwritten or typed and can then be placed on your front door on the day. The note can politely state that you have an anxious dog and that you would appreciate it if trick or treaters don't call. While this may seem rude to some, its far more important to prevent the stress of your dog than handing out sweets to sugar crazed children. Make sure the note is eye catching to ensure it is not missed and make the writing large and bold so that is clear to read in the dark. Also, try using simple language, so that young children can understand. Most trick or treaters are accompanied by a parent and so this polite note should hopefully stop anyone ringing your doorbell and causing your dog stress.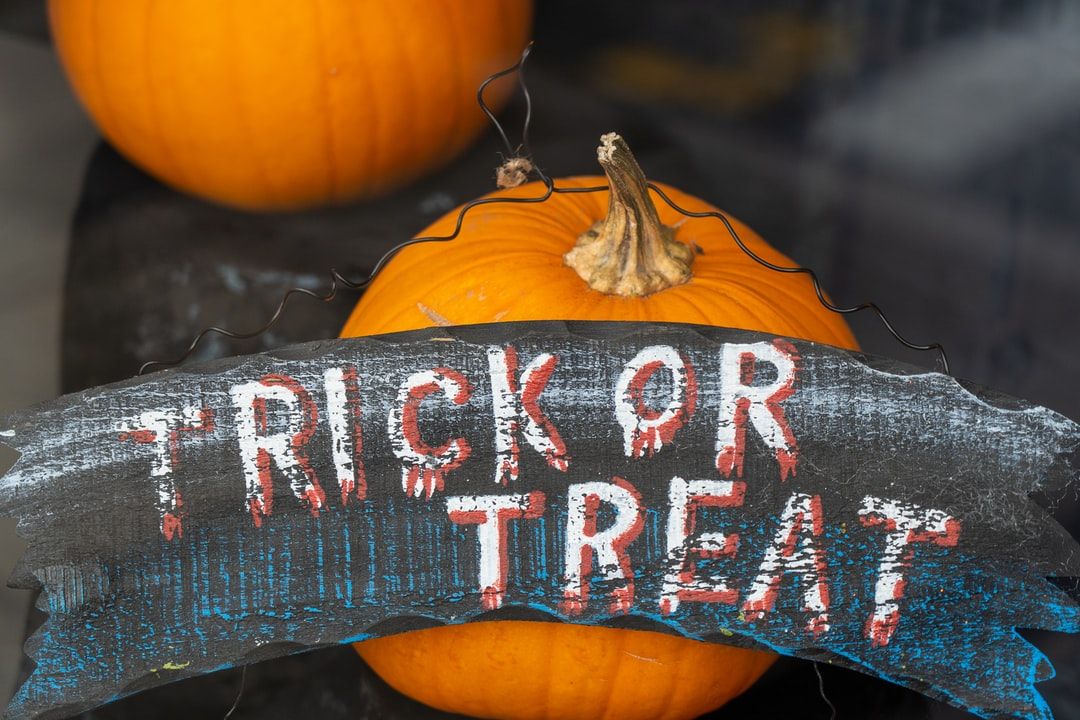 Many dogs simply struggle with people being near the house. Just hearing voices or seeing people pass by on the opposite side of the street can be enough to trigger severe stress. If this is the case for your dog, kind management is needed and sometimes this is the simplest and most effective way to reduce your dog's stress. So it's a good idea to shut all your blinds and curtains and prevent your dog being able to observe the front of your home. If you have furniture near windows or doors, that your dog will use to look out of the window, it would also be advisable to temporarily remove these until the next day. When dogs can't see the things that stress them out, it immediately calms them down. While some will say that their dog loves looking out of the window, other dogs can begin to feel it is a post they have to guard. This can result in severe stress, especially on Halloween when there are lost of strangers wearing scary costumes near the house.


For some dogs, hearing children or/and people talking and laughing may be really stressful. If your dog struggles with this too, playing your television or radio loud can help mask the noise and keep your dog calm. Hopefully, leaving a note on the door will ensure trick or treaters don't come too close to your house, reducing the potential noise.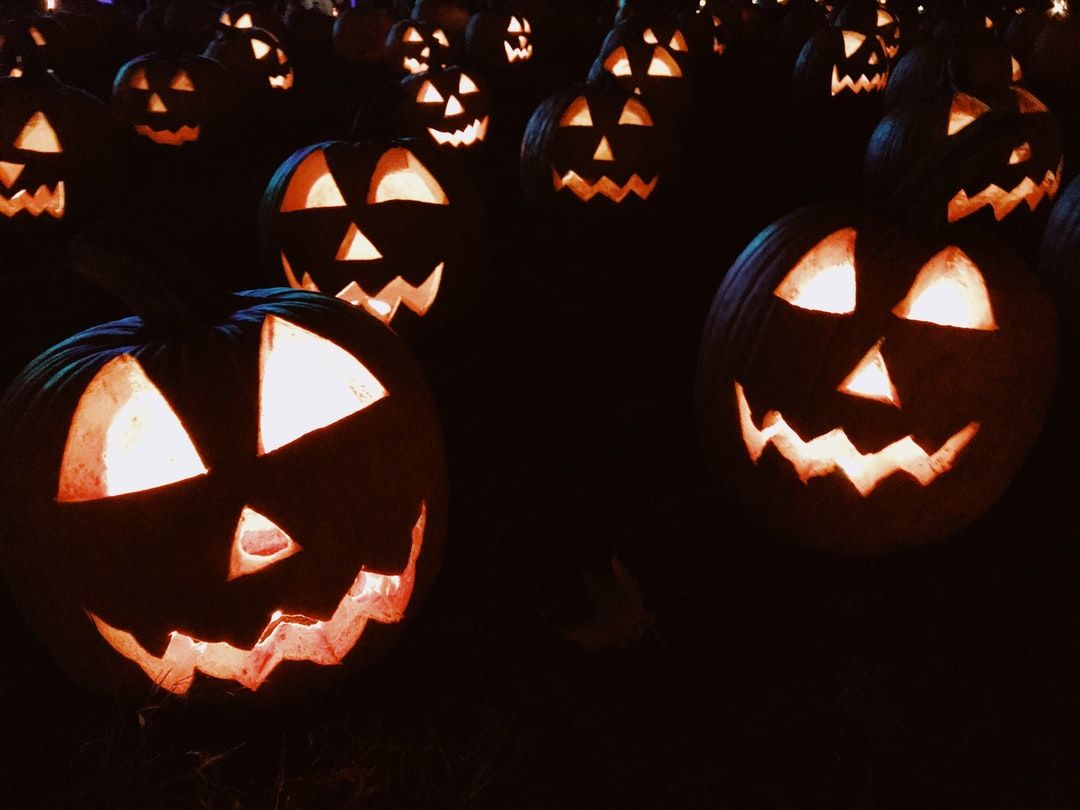 If you have an anxious dog, you are more than likely familiar with the calming effects of enrichment, however, it is always worth having a reminder to plan such activities for stressful holidays, like Halloween. Snuffle mats, puzzle feeders, licky mats and filled Kongs are all great activities to reduce your dog's heart rate and keep them calm. Why not introduce new training games or activities, such as a treat treasure hunt around your house or creating homemade enrichment toys, using old socks, towels and boxes. A new enrichment activity or game is bound to keep your anxious dog happy and engaged with you, which is ultimately all we want!


If you walk your dog in the evening, it may be wise to schedule your walk in the day to avoid bumping into any scary trick or treaters. If your dog is often anxious and reactive on walks, it may even be more beneficial to have a day off from walking altogether, to prevent trigger stacking. (The accumulation of lots of little stressors, that finally result in a huge stress response when coping threshold is surpassed). There is never any harm in having a day off and it can actually be really beneficial in reducing stress levels. Planning lots of games and activities for your dog to do instead, will keep your dog happily entertained.
While many may stress how important it is to train your dog to confidently greet people at the door, this isn't always possible for every dog. We have to adjust the goal posts to meet what each individual dog can possibly achieve, otherwise we set them up to fail. To force them to do something that elicits such significant anxiety, wouldn't be beneficial in any way and Halloween definitely isn't the occasion to start such training. Therefore, it is a kindness and an act of love on our part to accept what our dog struggles with and do what we can to help them cope.


In all honestly, it can be really difficult living with an anxious dog, but every action that you take to make your dog's life happier and securer, never goes unrewarded. Remember, your dog absolutely loves you for it and that is reward enough!
Help Centre
Canine Principles courses are externally accredited and have been reviewed by the accrediting body for quality and content.
Ofqual
courses are accredited by
UKRS
and meet all qualification requirements set out by the
Open College Network
. Each Ofqual course carries an 8 digit qualification number that can be referenced against the existing qualification framework.
CPD
courses are accredited by the
CPD Standards Office
.
All students must be aged 18 years+
Courses are assessed at the end of each module.
Ofqual Courses
Each module of an Ofqual course, typically includes 2 written exercises and represent the module as a whole. The final assessment for a diploma course brings together learning from all modules in the format of a thesis exercise. Word counts and referencing guidelines are made clear for each assessment. Tutors will score assessments based on the agreed learning objectives. Students must keep an evidence file of all assessments for Ofqual auditing purposes.
CPD Diploma Courses Each module of a diploma course, typically includes a set of 10 multiple choice revision questions, followed by a written exercise. Revision questions focus on individual subjects from each module. Exercises are presented as a practical or theory question and represent the module as a whole. The final assessment for a diploma course brings together learning from all modules in the format of a thesis exercise. Word counts and referencing guidelines are made clear for each assessment. Tutors will score assessments based on the agreed learning objectives.
CPD Certificate Courses The format may vary, dependent on the course. Typically, each module of a certificate course includes 5 - 10 revision questions and a single exercise. Tutors will score assessments based on the agreed learning objectives.

Self Study Courses These courses are assessed via multiple choice quizzes.
Enrol on your chosen course directly from the course overview page.
Enrolled courses can be accessed anytime via the
student dashboard
. Once you are logged in to you account, select your course and you will be taken directly to the learning materials.
Online elements require an internet connection and suitable device.
Course books can be studied online or downloaded for offline reading.
Solutions to common account issues:
Course(s) not showing on dashboard
Skill-Hub courses are only available while there is an active subscription. Check
your account
to show the most recent payments and membership expiry.
Occasionally, students have more than one account as they have signed up for a free course or newsletter with a different email. Contact us using the form to solve this issue.
Email not recognised
Check all spelling is correct. Check the email account for previous correspondence from Canine Principles. If everything seems normal, contact us using the form to solve this issue.
Password Reset
You can manage your password
here
.
Manage subscription
You can manage your subscription settings directly from your
student account page
.
We welcome students of
any age
*
,
education
or
previous experience
. Occasionally, our courses will require some prior learning. This will always be made clear in the course description.
(*All students must be aged 18 years+)
Canine Principles
Skill-Hub
is a monthly/annual subscription learning service. Membership allows unlimited* access to all self-study courses, workshops and webinars. Some courses and workshops are exclusive to the Skill-Hub, including the Skill-Hub members area, including presentations, interviews and webinars from a variety of Canine Professionals.
The 3 day free trial requires credit/debit card details to begin. Your card will be billed automatically when the trial expires and every month subsequently.
You can
manage your subscription here
.
We currently have students and graduates from over 30 countries worldwide. Online learning allows us to support all students, no matter where in the world you may be.
All courses are online study. You will not need to travel for assessments.
All Courses are written in the English language.
Ofqual course qualifications only apply to students from the UK.
Canine Principles offers both self-paced and time sensitive courses.

Self-paced - All CPD Diploma Courses, CPD Certificate Courses, Workshops, Webinars and Self Study Courses are completely self-paced learning with no deadlines for assessments or completion.

Ofqual Qualifications - All Ofqual courses inherit a 2 year registration period. The cost of registration is included with initial enrolment. When the 2 year registration period expires, students may re-register for a £70 registration fee.
Canine Principles pledges to teach only kind, force-free, positive methods that promote mental and physical well-being for dogs, in line with current scientific research. Our courses occasionally discuss the use of other training methods, with the intention of providing education in why these approaches are ineffective and harmful to learning.
You will receive
positive
,
personal feedback
from Tutors who are always available to answers any questions and guide you through your learning experience. Tutors will respond to assessments within 48 hours (72 hours during weekends)
Students are also encouraged to support each other through built in
s
tudent community
and private
Facebook Study Group
. where discussions and new information are shared daily.