The act of enriching your dog's life is a vital part of canine guardianship. Not only does it help them to relax – it grows their self-sufficiency. Something they will all need when we start to go back to our daily routines after being home all the time. We know so much about the dog's mind nowadays that we can't possibly think a walk and sleeping the day away is enough.

Dogs want to do things, they get bored and need mental stimulation just as we do. They can grow valuable self-belief and confidence through enrichment and problem solving – just within their limits. Some beautiful aspects of investing some time and energy into canine enrichment is that it's bespoke, it's free, every single dog will benefit and it makes our dogs happy. Why is it so good for our dogs? It's good because it fulfils many of their natural needs which include foraging, problem solving and working out how to eat.


Our dogs have little choice in their lives, we chose them and even if we took them from bad situations, we forced ourselves into their lives. We made them our family, we expect them to fit around us and adapt to our lifestyles with no question.We also live in times where people have a lot of expectations of dogs. They shouldn't growl, they should put up with children leaning all over them and they must work out what we want from them, even when our requests are confused and sometimes confrontational. They often have little choice on when they walk, when they relax, when we interact with them, feed them or give them something to do. Then, if they find something to do on their own, we often complain because it doesn't suit us.


Enrichment isn't about training, it's not about changing your dog's behaviour and whilst their behaviour might change because they are happier, the objective is to give your dog something enjoyable to do. A dog that is enjoying an activity, is naturally having his life enriched. We don't even need to be involved, in fact it's better if we are not, because the dog is given a problem to solve and then the space and time to solve it.


Enrichment activity has some wonderful side effects. The dog is naturally calmer because they have spent some time problem solving.


Mental energy use leads to mental relaxation, so gentle problem solving will alleviate boredom. Anxious dogs that are low in self-esteem benefit from the boost of solving a problem all on their own. Dogs get to choose their approach to solving the problem, which naturally provides them with an extra choice in their lives.


An enrichment activity is pressure free. No expectations are placed on the dog, they are just provided with a problem to solve and left to it. Whether it's, treats in a box stuffed with easy rip paper balls, breakfast in a Licki-mat or dinner from a towel, snuffle mat or ball doesn't matter. It should be within your dog's current mental confidence and capacity, fun and enjoyable.


The dog is a scavenger and problem solver, food is one of the biggest problems that non-domestic dogs must solve. To create enrichment activities around food will brighten your dog's day, get his neurons firing, prevent listless boredom and may even chase away dementia. Here are some easy food focussed activities to adopt today.

Scatter feeding

is better with dryer foods. if you're playing indoors, but if you cast aside the food bowl and scatter food in as many areas as possible. The dog's nose is amazing, plus sniffing is a real boredom buster, so why not make the most of feeding times with some scatter fun.


Shut the dog away and prowl around the house for a while hiding treats. Make the hiding places match your dog's ability to find or he may lose confidence and give up. The ability to find hidden food will grow along with the confidence of your dog and you can progress to all heights and more difficult hiding places.


The snuffle rug can be easily made at home or purchased online. It's a mat with large felt strips for snuffling in after tiny grains of food and dogs love them.


Sprinkled food is the ultimate sniff enrichment. It's more than a game, but a stress buster and cognitive behaviour tool. The aim with sprinkled food is that the dog is led into an area where his nose naturally begins to work, to settle his stress systems and benefit his mind and body.


Search dog games are great fun. Begin with a toy that holds a tiny bit of food and have your dog held, or waiting if he can contain himself, whilst you pretend to drop the toy in a variation of areas in an outdoor space. Touch every area you pretend to leave the toy in, with the toy, as this creates a scent disturbance. Then return to your dog and send him to find the treasure.



Frozen Kongs or similar toys, with tasty food in, are long lasting lick treats that will keep your dog busy for a while. Whilst licking, a dog relaxes and this benefits his mind and body.

Get Inventive

The more you carry out enrichment, the happier your dog will be. In addition, the better at it he will become. Plus, it's great fun for both of you and great for your relationship. So, hide food in boxes, in bigger boxes and let your dog pull them apart. Wrap and tie rags around a treat and let your dog rip them open or create elaborate games with all sorts of household items such as plastic bottles, muffin trays and old toilet rolls.

Remember:

All dogs are different and some have more confidence than others. Whilst most dogs will work out what to do, some struggle due self-belief. This often doesn't mean a lack of interest but simply low self-esteem. Offer help, just enough to make it easier for progress, keep it pressure free and coach that confidence.

Motivation varies and if your dog shows little interest then your reward isn't motivational enough. Each of us have unique motivators and that includes our dogs. When something excites your dog, it's likely to be a motivator for him. To build his confidence and enthusiasm, always use a reward that he actually wants.
When you start using canine enrichment with your dog you will both get addicted. And why not? It's great fun. If you already enrich your dog's life with unique and interesting techniques, leave a comment, it will help the rest of us and our own dogs can benefit too.
Start Your FREE Skill-Hub

Trial

Today
Commitment Free 3 Day Access
Canine Principles' Skill-Hub allows unlimited
*
access to
ALL
self-study courses, workshops & webinars.
*Requires Monthly Subscription. See Skill-Hub Subscription Page For Details.
Sit! Stay! Wait!
Remember To Enrol On
Your
FREE

Course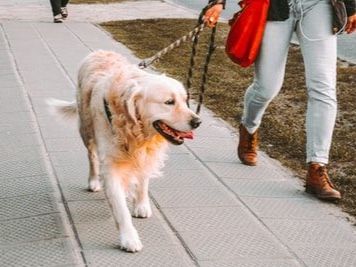 Loose Lead Walking
Help Centre
Canine Principles courses are externally accredited and have been reviewed by the accrediting body for quality and content.
Ofqual
courses are accredited by
UKRS
and meet all qualification requirements set out by the
Open College Network
. Each Ofqual course carries an 8 digit qualification number that can be referenced against the existing qualification framework.
CPD
courses are accredited by the
CPD Standards Office
.
All students must be aged 18 years+
Courses are assessed at the end of each module.
Ofqual Courses
Each module of an Ofqual course, typically includes 2 written exercises and represent the module as a whole. The final assessment for a diploma course brings together learning from all modules in the format of a thesis exercise. Word counts and referencing guidelines are made clear for each assessment. Tutors will score assessments based on the agreed learning objectives. Students must keep an evidence file of all assessments for Ofqual auditing purposes.
CPD Diploma Courses Each module of a diploma course, typically includes a set of 10 multiple choice revision questions, followed by a written exercise. Revision questions focus on individual subjects from each module. Exercises are presented as a practical or theory question and represent the module as a whole. The final assessment for a diploma course brings together learning from all modules in the format of a thesis exercise. Word counts and referencing guidelines are made clear for each assessment. Tutors will score assessments based on the agreed learning objectives.
CPD Certificate Courses The format may vary, dependent on the course. Typically, each module of a certificate course includes 5 - 10 revision questions and a single exercise. Tutors will score assessments based on the agreed learning objectives.

Self Study Courses These courses are assessed via multiple choice quizzes.
Enrol on your chosen course directly from the course overview page.
Enrolled courses can be accessed anytime via the
student dashboard
. Once you are logged in to you account, select your course and you will be taken directly to the learning materials.
Online elements require an internet connection and suitable device.
Course books can be studied online or downloaded for offline reading.
Solutions to common account issues:
Course(s) not showing on dashboard
Skill-Hub courses are only available while there is an active subscription. Check
your account
to show the most recent payments and membership expiry.
Occasionally, students have more than one account as they have signed up for a free course or newsletter with a different email. Contact us using the form to solve this issue.
Email not recognised
Check all spelling is correct. Check the email account for previous correspondence from Canine Principles. If everything seems normal, contact us using the form to solve this issue.
Password Reset
You can manage your password
here
.
Manage subscription
You can manage your subscription settings directly from your
student account page
.
We welcome students of
any age
*
,
education
or
previous experience
. Occasionally, our courses will require some prior learning. This will always be made clear in the course description.
(*All students must be aged 18 years+)
Canine Principles
Skill-Hub
is a monthly/annual subscription learning service. Membership allows unlimited* access to all self-study courses, workshops and webinars. Some courses and workshops are exclusive to the Skill-Hub, including the Skill-Hub members area, including presentations, interviews and webinars from a variety of Canine Professionals.
The 3 day free trial requires credit/debit card details to begin. Your card will be billed automatically when the trial expires and every month subsequently.
You can
manage your subscription here
.
We currently have students and graduates from over 30 countries worldwide. Online learning allows us to support all students, no matter where in the world you may be.
All courses are online study. You will not need to travel for assessments.
All Courses are written in the English language.
Ofqual course qualifications only apply to students from the UK.
Canine Principles offers both self-paced and time sensitive courses.

Self-paced - All CPD Diploma Courses, CPD Certificate Courses, Workshops, Webinars and Self Study Courses are completely self-paced learning with no deadlines for assessments or completion.

Ofqual Qualifications - All Ofqual courses inherit a 2 year registration period. The cost of registration is included with initial enrolment. When the 2 year registration period expires, students may re-register for a £70 registration fee.
Canine Principles pledges to teach only kind, force-free, positive methods that promote mental and physical well-being for dogs, in line with current scientific research. Our courses occasionally discuss the use of other training methods, with the intention of providing education in why these approaches are ineffective and harmful to learning.
You will receive
positive
,
personal feedback
from Tutors who are always available to answers any questions and guide you through your learning experience. Tutors will respond to assessments within 48 hours (72 hours during weekends)
Students are also encouraged to support each other through built in
s
tudent community
and private
Facebook Study Group
. where discussions and new information are shared daily.