Gregory Berns has relatively recently introduced us to alert brain scans of dogs, for the purpose of exploring their emotional capacity through brain activity. Berns tells us that from the beginning of his research, the dogs were treated as persons. With a consents form modelled on a child's consent form, the dog's guardian was required to give consent to dog participation and only positive methods of teaching were used. After a few months of positive teaching, Berns and his team were rewarded with the first alert canine brain mapping activity.

The striking similarity between the human and canine brain began with the behaviour of brain region Caudate Nucleus. It is virtually impossible to associate a brain area with one particular feeling or emotion, yet the caudate is linked with feelings in people associated with music and food preferences – even beauty. In dogs the Caudate has been linked through Berns' research with pleasure at the dog's guardian stepping into view and hand signals preceding the presentation of food. Berns suggested that this may show that this particular brain area could be linked with love, and this is explored more deeply in his publication "How Dogs Love Us".

Canine emotions are not too dissimilar to ours. They are fuelled by the mind and we can consider learning as a storage area that the mind draws upon, to understand whether it needs to reinforce an emotion. The dog generally lives by their heart and something severe must happen to them for them to be continually experiencing strong negative emotions, even then they can get over it if the severity stops and they get the space to return to the moment they are in.

An example of this is Holly, my little dog taken from the puppy farm. She's the happiest little dog in the world now, despite six years as a breeding dog she loves her home and life. When Holly arrived with us she was very fearful and shut-down. She was especially scared of people and would go nowhere near us. Now she asks to play with our hands, wriggles, play bites and rolls around loving a game. With the space to rebalance in our company and in her safe home, Holly is living completely through her heart and in the exact moment that she's in.

Many years ago, accurate assessments were made by Charles Darwin and others in his time, telling us that there is no difference between animal and man in our ability to suffer. It was generally accepted that animals were emotionally rich, as were humans.

Then science began to need proof of the emotional lives of animals at a time when we knew very little about anything. Descartes was a French scientist in the 17th century prominent with his opinion that animals have no concept for emotion, that they were simply machine like beings who feel nothing. In fact, he thought that about all of us and decided that only humans have a soul, whilst animals don't. He then told the world (based on his own idea that there must be a God, for him to be able to imagine a God) that the soul is somewhere in the body – then promptly died without putting the record straight.

Thankfully though, we have come a long way since Descartes' odd views and are questioning everything in a more balanced way, we are aware that animals do indeed have rich emotional lives. At present, dogs are known to have all the basic emotions such as fear, love, joy, pain and happiness. We are also aware that they are very likely to experience more complicated emotions such as jealously associated with a sense of fair play. We know that the dog has emotional areas in the brain that light up with the presence of someone they love, or at the prospect of tasty food.

Other emotions, such as guilt, pride and compassion are at this point not proven in dogs, they are often referred to as higher emotions because they are indicative of presence of mind. Guilt is a common unproven emotion that we must continue to investigate as guilt is associated with the idea that a dog "knows they have done wrong". When people assume their dog looks guilty, therefore feels guilty, they assume the dog knew he was doing wrong and did the wrong thing anyway therefore deserves punishment or disappointment.


Dogs experience emotions, of this there is no doubt. A range of emotion which certainly covers heart based feelings such as love, happiness, fear and joy and pain. They also experience nervous system based changes such as stress and anxiety. Whether they think beyond the moment they live in, or have the presence of mind for rumination and guilt, we don't really know. As you and I don't know whether our dogs feel guilt, we simply can't assume either way. The important thing to remember is that dogs are our friends and we must fill in the gaps of our own knowledge with kindness towards them every step of our lives together.


As their emotions change their internal world, and our emotions are contagious to them, we must consider the links with emotional impact, canine behaviour and the wellbeing of our dogs.

Start Your FREE Skill-Hub

Trial

Today
Commitment Free 3 Day Access
Canine Principles' Skill-Hub allows unlimited
*
access to
ALL
self-study courses, workshops & webinars.
*Requires Monthly Subscription. See Skill-Hub Subscription Page For Details.
Sit! Stay! Wait!
Remember To Enrol On
Your
FREE

Course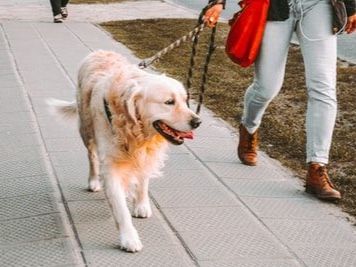 Loose Lead Walking
Help Centre
Canine Principles courses are externally accredited and have been reviewed by the accrediting body for quality and content.
Ofqual
courses are accredited by
UKRS
and meet all qualification requirements set out by the
Open College Network
. Each Ofqual course carries an 8 digit qualification number that can be referenced against the existing qualification framework.
CPD
courses are accredited by the
CPD Standards Office
.
All students must be aged 18 years+
Courses are assessed at the end of each module.
Ofqual Courses
Each module of an Ofqual course, typically includes 2 written exercises and represent the module as a whole. The final assessment for a diploma course brings together learning from all modules in the format of a thesis exercise. Word counts and referencing guidelines are made clear for each assessment. Tutors will score assessments based on the agreed learning objectives. Students must keep an evidence file of all assessments for Ofqual auditing purposes.
CPD Diploma Courses Each module of a diploma course, typically includes a set of 10 multiple choice revision questions, followed by a written exercise. Revision questions focus on individual subjects from each module. Exercises are presented as a practical or theory question and represent the module as a whole. The final assessment for a diploma course brings together learning from all modules in the format of a thesis exercise. Word counts and referencing guidelines are made clear for each assessment. Tutors will score assessments based on the agreed learning objectives.
CPD Certificate Courses The format may vary, dependent on the course. Typically, each module of a certificate course includes 5 - 10 revision questions and a single exercise. Tutors will score assessments based on the agreed learning objectives.

Self Study Courses These courses are assessed via multiple choice quizzes.
Enrol on your chosen course directly from the course overview page.
Enrolled courses can be accessed anytime via the
student dashboard
. Once you are logged in to you account, select your course and you will be taken directly to the learning materials.
Online elements require an internet connection and suitable device.
Course books can be studied online or downloaded for offline reading.
Solutions to common account issues:
Course(s) not showing on dashboard
Skill-Hub courses are only available while there is an active subscription. Check
your account
to show the most recent payments and membership expiry.
Occasionally, students have more than one account as they have signed up for a free course or newsletter with a different email. Contact us using the form to solve this issue.
Email not recognised
Check all spelling is correct. Check the email account for previous correspondence from Canine Principles. If everything seems normal, contact us using the form to solve this issue.
Password Reset
You can manage your password
here
.
Manage subscription
You can manage your subscription settings directly from your
student account page
.
We welcome students of
any age
*
,
education
or
previous experience
. Occasionally, our courses will require some prior learning. This will always be made clear in the course description.
(*All students must be aged 18 years+)
Canine Principles
Skill-Hub
is a monthly/annual subscription learning service. Membership allows unlimited* access to all self-study courses, workshops and webinars. Some courses and workshops are exclusive to the Skill-Hub, including the Skill-Hub members area, including presentations, interviews and webinars from a variety of Canine Professionals.
The 3 day free trial requires credit/debit card details to begin. Your card will be billed automatically when the trial expires and every month subsequently.
You can
manage your subscription here
.
We currently have students and graduates from over 30 countries worldwide. Online learning allows us to support all students, no matter where in the world you may be.
All courses are online study. You will not need to travel for assessments.
All Courses are written in the English language.
Ofqual course qualifications only apply to students from the UK.
Canine Principles offers both self-paced and time sensitive courses.

Self-paced - All CPD Diploma Courses, CPD Certificate Courses, Workshops, Webinars and Self Study Courses are completely self-paced learning with no deadlines for assessments or completion.

Ofqual Qualifications - All Ofqual courses inherit a 2 year registration period. The cost of registration is included with initial enrolment. When the 2 year registration period expires, students may re-register for a £70 registration fee.
Canine Principles pledges to teach only kind, force-free, positive methods that promote mental and physical well-being for dogs, in line with current scientific research. Our courses occasionally discuss the use of other training methods, with the intention of providing education in why these approaches are ineffective and harmful to learning.
You will receive
positive
,
personal feedback
from Tutors who are always available to answers any questions and guide you through your learning experience. Tutors will respond to assessments within 48 hours (72 hours during weekends)
Students are also encouraged to support each other through built in
s
tudent community
and private
Facebook Study Group
. where discussions and new information are shared daily.