There is so much involved in being a professional and successful dog trainer.
Obviously, qualifications in canine behaviour and experience working with dogs is essential, nevertheless, there is more to being a successful dog trainer than just knowledge and experience. A lot of people, at the start of their training journey, may pursue a career working with dogs because they prefer their company over humans. While it's true working with dogs is the best career ever, you cannot escape from working with people. Working effectively with a dog's human family is a huge part of being a successful trainer, therefore; certain qualities are needed to achieve this. With this in mind, we're going to consider 3 qualities every dog trainer needs.
"This is the magic secret of dog training -- lose control over yourself and you at once lose control of the dog. Your strongest and most irresistible weapon is iron patience."
-Albert Payson Terhune


Unbeknownst to many, dog training requires a lot of empathy. Although our goal is to help dogs, clients often confide in us about their stressful lives, which can be tricky to handle. Some behavioural issues can create conflict in the family, leading to feelings of anxiety and even depression. It's not unusual for clients to break down and cry during consultations, because they are so desperate for help.


If we don't respond with empathy in these situations, we are missing an opportunity to develop a relationship, which will be key in successfully addressing the dog's behaviour. If we refuse to listen or acknowledge concerns, clients will likely shut down and become distant. In fact, they may never even book another session. Obviously, we are not therapists, but we are in a position of trust where showing sincere concern keeps the line of communication open. This allows us to determine how best to support the guardian and their dog, which is imperative to successful training.
"Educating the mind without educating the heart is no education at all." - Aristotle


Every dog trainer knows that training takes patience. Teaching a dog new behaviours, is time consuming and takes lots of practice. If you have chosen a career working with dogs, you likely don't struggle with this at all, however; your patience may wear thin when working with the dog's family. Failure to follow training instructions and/or neglecting to train between sessions are just two examples of the potential challenges we face. We often have to re-emphasise the importance of following the training plan and do our best to motivate them, despite their insistence that they don't have time.


Becoming confrontational and annoyed, while justified in some cases, is not helpful. We must do our best to communicate honestly and openly, while being tactful and respectful. After all, we have a common goal; to improve the life and behaviour of their dog. So, no matter how frustrated you get, remember to be patient.
"Great dog trainers have broad skills, not inflexible ideologies." - Ralf Weber


Humility is something that is severely lacking in the world today and yet it's such an important quality. If we are arrogant about our abilities as a trainer, we may neglect to prepare for our sessions or consultations. We may even decide we don't need to do any further study or gain any more qualifications. Nevertheless, canine behaviour is a field that is constantly changing, therefore, continued professional development is an integral part of providing training that is both effective and up to date with the latest scientific research. It may mean that we have to leave outdated ideologies behind and use new training methods. This requires us to readily acknowledge that we don't know everything. In fact, every dog we work with will teach us something new and our methods may change, the more we learn.


Sometimes, we need humility to acknowledge that we are not qualified or experienced enough to take on certain behavioural cases. It can be extremely difficult to admit that a dog's behavioural issues are beyond our current expertise, but we can't be skilled at everything. Every trainer has a certain niche, so there's no shame in telling a client you'd like to refer them to a behaviourist who specialises in a specific area of behaviour. As your skills develop, you will soon find your own niche and trainers may refer clients to you in the future. You would never set a dog up to fail by putting them in situations they haven't yet been trained for, so don't put yourself in that situation either.

"It's not only about dog training. It's about people training too." - Leila Grandemange


So, to be a successful dog trainer, you need to be patient with your clients, empathetic to their struggles and humble about your own expertise. All these qualities will help develop a good working relationship, enabling you to help dogs to the best of your ability. Your main goal in life is likely to help as many dogs as possible and, in all honesty, this involves helping their people too.
Start Your FREE Skill-Hub

Trial

Today
Commitment Free 3 Day Access
Canine Principles' Skill-Hub allows unlimited
*
access to
ALL
self-study courses, workshops & webinars.
*Requires Monthly Subscription. See Skill-Hub Subscription Page For Details.
Sit! Stay! Wait!
Remember To Enrol On
Your
FREE

Course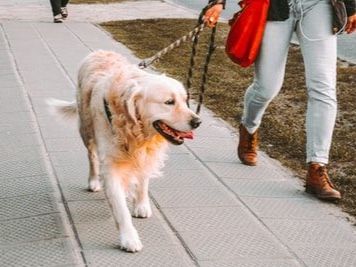 Loose Lead Walking
Help Centre
Canine Principles courses are externally accredited and have been reviewed by the accrediting body for quality and content.
Ofqual
courses are accredited by
UKRS
and meet all qualification requirements set out by the
Open College Network
. Each Ofqual course carries an 8 digit qualification number that can be referenced against the existing qualification framework.
CPD
courses are accredited by the
CPD Standards Office
.
All students must be aged 18 years+
Courses are assessed at the end of each module.
Ofqual Courses
Each module of an Ofqual course, typically includes 2 written exercises and represent the module as a whole. The final assessment for a diploma course brings together learning from all modules in the format of a thesis exercise. Word counts and referencing guidelines are made clear for each assessment. Tutors will score assessments based on the agreed learning objectives. Students must keep an evidence file of all assessments for Ofqual auditing purposes.
CPD Diploma Courses Each module of a diploma course, typically includes a set of 10 multiple choice revision questions, followed by a written exercise. Revision questions focus on individual subjects from each module. Exercises are presented as a practical or theory question and represent the module as a whole. The final assessment for a diploma course brings together learning from all modules in the format of a thesis exercise. Word counts and referencing guidelines are made clear for each assessment. Tutors will score assessments based on the agreed learning objectives.
CPD Certificate Courses The format may vary, dependent on the course. Typically, each module of a certificate course includes 5 - 10 revision questions and a single exercise. Tutors will score assessments based on the agreed learning objectives.

Self Study Courses These courses are assessed via multiple choice quizzes.
Enrol on your chosen course directly from the course overview page.
Enrolled courses can be accessed anytime via the
student dashboard
. Once you are logged in to you account, select your course and you will be taken directly to the learning materials.
Online elements require an internet connection and suitable device.
Course books can be studied online or downloaded for offline reading.
Solutions to common account issues:
Course(s) not showing on dashboard
Skill-Hub courses are only available while there is an active subscription. Check
your account
to show the most recent payments and membership expiry.
Occasionally, students have more than one account as they have signed up for a free course or newsletter with a different email. Contact us using the form to solve this issue.
Email not recognised
Check all spelling is correct. Check the email account for previous correspondence from Canine Principles. If everything seems normal, contact us using the form to solve this issue.
Password Reset
You can manage your password
here
.
Manage subscription
You can manage your subscription settings directly from your
student account page
.
We welcome students of
any age
*
,
education
or
previous experience
. Occasionally, our courses will require some prior learning. This will always be made clear in the course description.
(*All students must be aged 18 years+)
Canine Principles
Skill-Hub
is a monthly/annual subscription learning service. Membership allows unlimited* access to all self-study courses, workshops and webinars. Some courses and workshops are exclusive to the Skill-Hub, including the Skill-Hub members area, including presentations, interviews and webinars from a variety of Canine Professionals.
The 3 day free trial requires credit/debit card details to begin. Your card will be billed automatically when the trial expires and every month subsequently.
You can
manage your subscription here
.
We currently have students and graduates from over 30 countries worldwide. Online learning allows us to support all students, no matter where in the world you may be.
All courses are online study. You will not need to travel for assessments.
All Courses are written in the English language.
Ofqual course qualifications only apply to students from the UK.
Canine Principles offers both self-paced and time sensitive courses.

Self-paced - All CPD Diploma Courses, CPD Certificate Courses, Workshops, Webinars and Self Study Courses are completely self-paced learning with no deadlines for assessments or completion.

Ofqual Qualifications - All Ofqual courses inherit a 2 year registration period. The cost of registration is included with initial enrolment. When the 2 year registration period expires, students may re-register for a £70 registration fee.
Canine Principles pledges to teach only kind, force-free, positive methods that promote mental and physical well-being for dogs, in line with current scientific research. Our courses occasionally discuss the use of other training methods, with the intention of providing education in why these approaches are ineffective and harmful to learning.
You will receive
positive
,
personal feedback
from Tutors who are always available to answers any questions and guide you through your learning experience. Tutors will respond to assessments within 48 hours (72 hours during weekends)
Students are also encouraged to support each other through built in
s
tudent community
and private
Facebook Study Group
. where discussions and new information are shared daily.
Student Guidelines

Welcome to Canine Principles
Thank you for enrolling on your learning experience. Your enrolment includes entry to the Canine Principles
F
acebook Study Group
w
h
ich is a highly positive group, filled with a vast range of experience. It would be great to have you join us.


Canine Principles welcomes students of all ability, experience and previous education. Whether you are a seasoned professional who wishes to further their personal development or an enthusiastic beginner with a passion for dogs, your self-paced study will be supported and guided with the same care and attention.


We appreciate it can be difficult and even daunting taking on a new study route. Education should be an enjoyable experience where the student is encouraged to thrive in their chosen field. We are far less concerned about grammar, spelling and formatting than we are about understanding the course material and demonstrating your knowledge of dogs.


Please don't worry if you haven't studied for a while, you're here now and that's great. We aim for you to find this learning experience empowering and enlightening. With this in mind, we have prepared a short guide to help you achieve the most from your study.

Each individual has their own strengths, weaknesses and acquired skills that will help or hinder in their study. This guide is intended as an example of best practice that can easily be included in your current study routine.


Sally Gutteridge
Canine Principles Director of Studies
Get Some Exercise
In 2014, A University of Illinois Study, led by Dr. Chuck Hillman, found that as little as 20 minutes of exercise can lead to better cognition and memory, and higher scores on tests and examinations. This is great news for dog owners and something that you can definitely take advantage of as a daily walker.
Limit Distractions
Distractions can easily break our train of thought or pull us away from study all together. Find a suitable place to study that is conducive to learning. Set some time aside, ask for some privacy and turn off your phone.
Stay Hydrated
Dehydration contributes towards fatigue and poor memory. A 2012 study, conducted by the universities of East London and Westminster, found that results improved by an average of 10% when students kept hydrated throughout exams.


Read Out Loud
n 2015, Professor Victor Boucher of the University of Montreal completed research that suggested you are 50% more likely to remember information that has been read aloud than reading to yourself. You can either find a quiet place to read aloud to yourself or read directly to a friend or family member.
Teach as You Go
A step beyond reading aloud is to describe the lesson to somebody else. Try and make the subject understood and invite questions. If you don't have the answer to the question, you have a new area of understanding to explore and study which will help to further your knowledge in a given subject.
Make Notes and Diagrams
Keep a pen and paper close to hand and be ready to note down specific areas of interest. Even if you are not artistic, a quick diagram that only you understand is a great aid to the memory and allows you to process the information in a different way.
Research
Even when you feel that you have fully understood a subject from the course material, take some time to research further by looking online, reading books or talking to others who are involved in the subject. The study group is a great place to meet like minded people who are also learning new topics.
Review
Going back over previous course topics and modules, with the benefit of newly acquired knowledge, can help us to understand the connection between subjects. If we only focus on one subject in isolation, the connection may never be made.
Create Flash Cards

Flashcards are a great way to test your knowledge. Write a subject on one side of the card and then explain the subject on the opposite side. You can either draw the cards randomly and test your own knowledge or ask a friend to help.
Each course will have a unique grading system, dependant on the number of questions and exercises available.

Assessments will begin by advising the maximum possible score for each section and how this score can be achieved. Every module has an overall pass mark of 80%. Whilst the pass score is 80%, any assessment that scores below this will be returned with constructive feedback. Feedback is intended to describe where further marks can be achieved. You can re-submit a revised assessment to improve your score.

Assessments that score between 80% and 100% will also be returned with feedback, however, there will be no further grading as the threshold for passing the module has been met.

Each assessment will be marked and returned within 48 – 72 hours of receipt by your tutor. If you have submitted an assessment and have not received any correspondence within 48 hours, contact us here
via email o
r the study group
to confirm the assessment has been received.
Plagiarism is defined as:
"the practice of taking someone else's work or ideas and passing them off as one's own"
https://en.oxforddictionaries.com/definition/plagiarism accessed online February 2018

Canine Principles has a duty of care to identify and deter plagiarism in order to comply with accreditation standards.

Before marking, all work is checked against Copyscape, an online plagiarism detection service. To avoid plagiarism, all work should contain original writing with the exception of small quotes and properly referenced research.
External Research & Referencing
External research is a great way to improve your knowledge on any subject. Often, a course subject will be focused on the specific area that is relevant to the type of course. A course that covers the topic of scentwork may describe the scenting ability of a dog in great detail, whereas a course that covers dog training in general may only include a foundation knowledge of the same subject. For this reason, external research can provide an invaluable way of expanding on specific course subjects.

When you choose to include external research as part of your assessment, it is important that the work is clearly referenced. If you have previously studied at a higher level, you will be aware that there are many ways to reference your research. For the purpose of Canine Principles assessments, we are happy for you to include your references at the end of each answer.

References from online research can be included as a link to the source of the information: