Dog Skills For Humans
CPD Accredited, Online and Self Paced Dog Courses
CPD Accredited, Online and
Self Paced Dog Courses
Discover 70+ CPD Accredited Online Canine Courses & Workshops Focused On Canine Health & Wellbeing, Positive Reinforcement and Force-Free Learning
Track Your Progress, Connect With Students And Discuss Your Course With Our Social Learning Platform
Join The Canine Principles Community With over 10,000 Professionals And Enthusiasts Learning The Science Of Dogs

Canine Principles e-learning platform allows you to study anywhere, any time.
Access your videos, course books, notes and class discussions on the move.
Pick up where you left off on any device for a seamless learning experience.
Boost your confidence, master the field, become a certified professional.
No Wi-Fi? No Problem! Download your course books and study materials for offline study.
Sign Up Today on your mobile then access your course on your laptop, tablet and smartphone at any time.
Content You Can Trust

CPD Accredited Courses
Courses are accredited by The CPD Standards Office
The CPD Standards Office have reviewed each accredited course for content and quality and set out the framework of learning objectives.

Qualified Professionals
All Canine Principles Online Dog Courses have been written by qualified professionals with expertise on their chosen subject. Care has been taken to create a course library that is based on only the most up to date dog science. Courses that teach dog training and behaviour will only ever follow the science of positive reinforcement and reward based training.
Try Before You Buy
Start Your FREE Skill-Hub

Trial

Today
Commitment Free 3 Day Access
Canine Principles' Skill-Hub allows unlimited
*
access to
ALL
self-study courses, workshops & webinars.
*Requires Monthly Subscription. See Skill-Hub Subscription Page For Details.
Try Before You Buy
Start Your FREE
Skill-Hub

Trial

Today
Commitment Free
3 Day Access
Canine Principles' Skill-Hub allows unlimited
*
access to
ALL
self-study courses, workshops & webinars.
*Requires Monthly Subscription. See Skill-Hub Subscription Page For Details.
A Huge Library Of Self-Study Online Dog Courses, Workshops & Resources.
Allowing you to learn, earn certificates and access an ever-growing range of CPD courses, the Canine Principles Skill-Hub is a bespoke membership service that won't break the bank. It exists as part of a monthly membership service and each month offers new, valuable content from both Canine Professionals and respected guest dog professionals.
What Do Our Students Say?
I wasn't sure what to expect when I signed up to this course but wanted to become a dog walker and wasn't sure where to start. The flexible course format (study at your own pace, submit assignments when you're ready) meant I could complete the diploma alongside my other commitments and not feel overwhelmed! A huge benefit is the online study group which made me feel part of a learning and working community and gave me a sort of 'real world' context. The biggest surprise was the amount of confidence the diploma gave me in starting my business. I'm sure I'll refer back to the course material in the future too.

Dog Walking, Boarding & Care Diploma
The reading material is clearly written, logically structured and presented, and easy to follow. It gives a great basic grounding in the issues faced by rescue dogs and lots of positive advice on training and building a bond with your dog. The course goes at your pace and the further reading and resources lists give you plenty opportunity to delve further into areas. There are no tricks in the assessment questions, you are asked to demonstrate your knowledge and you will be surprised at how much you had forgotten you knew! I would highly recommend this course to anyone with (or considering) a rescue dog to be part of their lives.

Rescue Dog Advanced Certificate
Surely a must for every dog owner and professional. This vet-written course assumes no prior medical knowledge and so is in no way daunting. It moves through the many hazards, signs of illness, and injuries dog may suffer and gives clear and simple but detailed information on what to look for, how to provide primary care, and when it's necessary to get to the vet. Having completed this course, I was much calmer and objective when one of our dogs was unwell recently. I knew what to check and how to monitor for her getting worse and, thankfully, better. This course gave me the skills and confidence to know that my girl was going to be OK and, as she has a deep fear of vets, I was delighted that Canine Principles had put me in a position to be able to avoid that for her.

Canine First Aid Certificate
This course went well beyond my expectations. The content was very in-depth and the module materials flowed very well. The structure of the course encourages you not just to pass, but excel in the subject matter. One of the greatest joys was implementing the material learnt from the modules in physical training sessions. The tutor is extremely in-tuned with the course and is always there to give general guidance and quick marking turn-around times. The tutor also gives significant feedback and helps encourage exploring the subject matter further. My tutor for this course was an expert search handler with years of international experience. The customer service was excellent and very friendly. The response times and support were excellent. The course modules will remain great reference for years to come.

Search Dog Handler Diploma
Stay In The Loop
Get weekly updates on live streams, news and more directly to your inbox.
14 Day Satisfaction Guarantee
We're confident that Canine Principles provides an amazing educational experience, with accurate and up to date course materials and friendly tutor support.
We want you to be completely satisfied with your choice to enrol on any of our online dog courses.
If you're not completely satisfied, we will provide a full refund within 14 days of enrolment, no questions asked.
Sit! Stay! Wait!
Remember To Enrol On Your FREE Course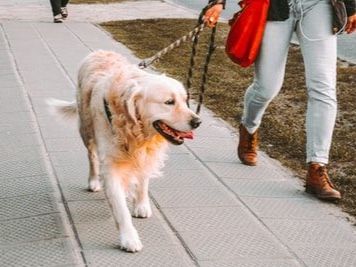 Loose Lead Walking