Play is magic and an amazing boost to mood and relationship but how often do you play with your dog? Let's take a closer look at canine playtime.
Play between often occurs for the sake of the game, it's fun, it's an opportunity to learn and build relationships.


Watching happy dogs playing is a wonderful thing. Every movement and every part of their bodies are a pure expression of joy and the enjoyment of life. How dogs play is often a modified and restricted version of hunting behaviours. They chase each other, mouth and bite (although the bite is inhibited), pin each other and roll over on the ground, pounce and wrestle with each other.


Play is important for puppies. In learning about how dogs play when still with their mother and littermates, they develop important motor skills and communication skills. At this young age, they begin to learn about the rules of canine play. This is when the development of bite inhibition starts, as the puppy learns to control the strength of their bite. If they play too roughly, their mother or the other puppies in the litter will break off the play session and may rebuke the puppy.


As they grow, puppies continue learning how dogs play from other dogs around them, both peers of a similar age and older dogs. This is why it is important to make sure puppies meet socially competent dogs of different ages during their socialisation period and continue meeting dogs to avoid forgetting any of the lessons throughout their lives.


Signs to look for in how dogs play to ensure that it is good play include:
Equal (Or Happily Unequal) Play
The dogs take turns to win or lose. Or if one loses more, they don't mind.
Regular timeouts to relieve any growing tension.
A relaxed and happy facial expression like this one shows a happy dog.
Observation Is Empowerment
Observing dogs empowers us and gives us the opportunity to really understand how they feel. Here's what you might see when you watch two dogs playing:


Plenty of give and take. The dogs take turns to win or lose. Or if one loses more, they don't mind. In the past it was considered that dog's play by a rule of 50:50 meaning that play is entirely even between two individuals. It has since been explored in more detail. We can now assume that play between two individuals is as unique as the dogs themselves. Some may 'win' the game more frequently than others as a matter of course.


Frequent breaks in play – for natural timeouts and to relieve any growing tension.


In these breaks, dogs may often show 'displacement' behaviours, normal dog behaviours that look out of place such as stopping play for a quick sniff or scratch. If the dogs then go back into playing happily, the break is to check that everyone is still happy enjoying the play.


Behaviours like play bows. Although the bow is not always inviting play, when used in the context of happy dogs playing well together, the play bow is a signal to the others involved that what is coming next is intended as play, with no serious intention or aggression.


It is important that we use careful observation and intervene if the situation stops being fun for any of the dogs. Although due to how dogs play the play can look quite intense, overly rough play should not be permitted. Watch the play carefully. If one dog is always playing the aggressor and another dog is trying to get away, whimpering or yelping, or giving constant appeasement signals, then it is not good play, and we should intervene to remove the overwhelmed and worried dog to safety.
When we play with our dogs (as a completely different species), the role is similar, we treat it like a dance and follow the rules of fair play whilst also maintaining our dog's confidence and growing their desire to engage with us, which will spill over into all areas of our life together.


Engagement is a vital part of your relationship with your dog and it's something that works perfectly to build your bond, to keep your dog's focus and add glue to your relationship through the tougher times.


A dog who is engaged with us will be less likely to run away or respond to distractions because they are focussed and already having fun with their human. To achieve engagement, we simply need to work out what motivates the dog then use it with wisdom. Motivation is always decided by the dog, some love scattered food whilst others love a tug toy.


Watch your dog as you try a few different attempts to make them happier by introducing something to your interactions for example:


A bit of nice food,
A special toy,
Changes in the tone of your voice,
Physical touch, such as scratching or stroking.


All dogs prefer some things more than others and by testing with different types of reward you will be able to see which your dog likes most and use it for play and engagement.


You and your dog become one through your relationship. Try to consider that the single entity you become has a bank of trust and investment within it. Each time you become engaged with your dog, something is added to that bank and each time you become disengaged or disenchanted with your dog, something is taken away. The unity that is you and your dog sharing a life together changes on a daily basis. Your balance as a single entity changes based on your mood, your dog's mood, your single and mutual wellness or the experiences you have, whether together or separately.
Most Dogs Like Food Rewards
Many Dogs Love A Special Toy
Some Working Breeds Are Naturally Motivated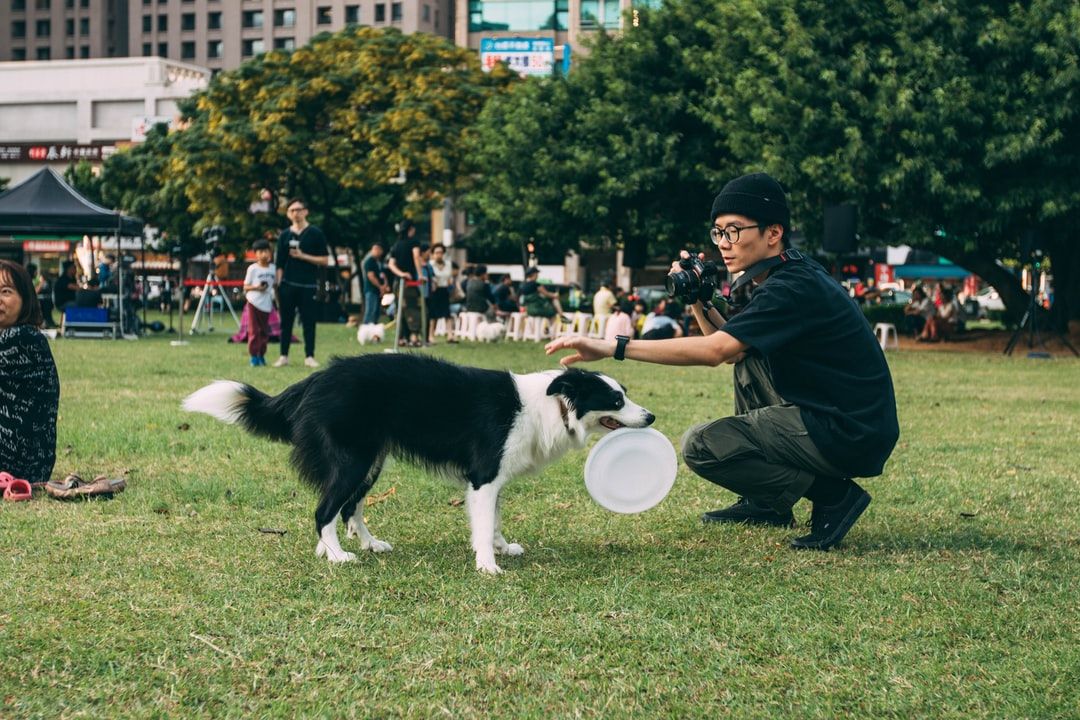 The more you engage with your dog through bonding activities, such as play, the more stable your bank of trust and investment in your relationship is. Simply put, the closer you are during peace times the more belief your dog will have in you when he is scared. That practised engagement is extremely useful when you accidentally stumble upon something distracting on walks. Remember this:


Dogs love interaction with people and crave engagement in a game or coaching session.


A dog requesting engagement may bring a toy, bark to ask for interaction or, more rarely, play bow to you.


Engagement is one of the most important things in a successful relationship


The body language of an engaged dog will be loose, happy and lean towards play. The dog will be predominantly focussed on you, for the next instalment of whatever they find motivating.


If you and your dog are sharing space and having a good time, and it's powerful secure and enjoyable for the dog, they are likely to be engaged with you and less focussed on the environment around them. When you play together, you own the space around you.


So, by learning to play at home and practising your dog's preferences, you will have a much more effective toolkit to grow and use when your dog experiences distractions and things that would normally call his attention away from you.


If you would like to learn more on how to play with your dog in a way they truly understand - check out our Discounted Canine Play 5 Workshop Bundle.
Start Your

FREE

Skill-Hub

Trial

Today
Commitment Free 3 Day Access
Canine Principles' Skill-Hub allows unlimited* access to ALL
self-study courses, workshops & webinars.
*Requires Monthly Subscription. See Skill-Hub Subscription Page For Details.
Sit! Stay! Wait!
Remember To Enrol On
Your
FREE

Course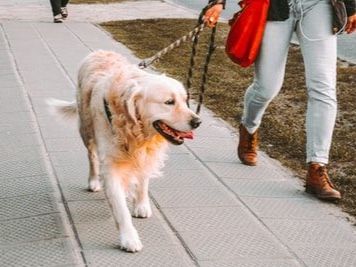 Loose Lead Walking
Help Centre
Canine Principles courses are externally accredited and have been reviewed by the accrediting body for quality and content.

Canine Principles is an Aim Qualifications and Assessments Group recognised centre and has been approved to deliver AIM Qualifications.
Registered Provider Number: 161711
Ofqual
courses are accredited by
AIM Qualifications
and meet all qualification requirements set out by Ofqual. Each Ofqual course carries an 8 digit qualification number that can be referenced against the existing qualification framework.
CPD
courses are accredited by the
CPD Standards Office
.
All students must be aged 18 years+
Courses are assessed at the end of each module.


Ofqual Courses Each module of an Ofqual course, typically includes 2-4 written exercises and represent the module as a whole. Word counts and referencing guidelines are made clear for each assessment. Tutors will score assessments based on the agreed learning objectives. Students must keep an evidence file of all assessments for Ofqual auditing purposes.


CPD Courses The format may vary, dependent on the course. Typically, each module of a certificate course includes 5 - 10 revision questions and a single exercise.


Self Study Courses These courses are assessed via multiple choice quizzes.
Enrol on your chosen course directly from the course overview page.
Enrolled courses can be accessed anytime via the
student dashboard
. Once you are logged in to you account, select your course and you will be taken directly to the learning materials.
Online elements require an internet connection and suitable device.
Course books can be studied online or downloaded for offline reading.
Solutions to common account issues:
Course(s) not showing on dashboard
Skill-Hub courses are only available while there is an active subscription. Check
your account
to show the most recent payments and membership expiry.
Occasionally, students have more than one account as they have signed up for a free course or newsletter with a different email. Contact us using the form to solve this issue.
Email not recognised
Check all spelling is correct. Check the email account for previous correspondence from Canine Principles. If everything seems normal, contact us using the form to solve this issue.
Password Reset
You can manage your password
here
.
Manage subscription
You can manage your subscription settings directly from your
student account page
.
We welcome students of
any age
*
,
education
or
previous experience
. Occasionally, our courses will require some prior learning. This will always be made clear in the course description.
(*All students must be aged 18 years+)
Canine Principles
Skill-Hub
is a monthly/annual subscription learning service. Membership allows unlimited* access to all self-study courses, workshops and webinars. Some courses and workshops are exclusive to the Skill-Hub, including the Skill-Hub members area, including presentations, interviews and webinars from a variety of Canine Professionals.
The 3 day free trial requires credit/debit card details to begin. Your card will be billed automatically when the trial expires and every month subsequently.
You can
manage your subscription here
.
We currently have students and graduates from over 30 countries worldwide. Online learning allows us to support all students, no matter where in the world you may be.


All courses are online study. You will not need to travel for assessments.


All Courses are written in the English language.


Ofqual course qualifications only apply to students from the UK.
Canine Principles offers both self-paced and time sensitive courses.

Self-paced - All CPD Diploma Courses, CPD Certificate Courses, Workshops, Webinars and Self Study Courses are completely self-paced learning with no deadlines for assessments or completion.

Ofqual Qualifications - All Ofqual courses inherit a 2 year registration period. The cost of registration is included with initial enrolment. When the 2 year registration period expires, students may re-register for a £70 registration fee.
Canine Principles pledges to teach only kind, force-free, positive methods that promote mental and physical well-being for dogs, in line with current scientific research. Our courses occasionally discuss the use of other training methods, with the intention of providing education in why these approaches are ineffective and harmful to learning.
You will receive
positive
,
personal feedback
from Tutors who are always available to answers any questions and guide you through your learning experience. Tutors will respond to assessments within 72 hours (98 hours during weekends)
Students are also encouraged to support each other through built in
s
tudent community
and private
Facebook Study Group
. where discussions and new information are shared daily.
Student Guidelines

Welcome to Canine Principles
Thank you for enrolling on your learning experience. Your enrolment includes entry to the Canine Principles
Facebook Study Group
w
h
ich is a highly positive group, filled with a vast range of experience. It would be great to have you join us.


Canine Principles welcomes students of all ability, experience and previous education. Whether you are a seasoned professional who wishes to further their personal development or an enthusiastic beginner with a passion for dogs, your self-paced study will be supported and guided with the same care and attention.


We appreciate it can be difficult and even daunting taking on a new study route. Education should be an enjoyable experience where the student is encouraged to thrive in their chosen field. We are far less concerned about grammar, spelling and formatting than we are about understanding the course material and demonstrating your knowledge of dogs.


Please don't worry if you haven't studied for a while, you're here now and that's great. We aim for you to find this learning experience empowering and enlightening. With this in mind, we have prepared a short guide to help you achieve the most from your study.

Each individual has their own strengths, weaknesses and acquired skills that will help or hinder in their study. This guide is intended as an example of best practice that can easily be included in your current study routine.


Sally Gutteridge
Canine Principles Director of Studies
Get Some Exercise
In 2014, A University of Illinois Study, led by Dr. Chuck Hillman, found that as little as 20 minutes of exercise can lead to better cognition and memory, and higher scores on tests and examinations. This is great news for dog owners and something that you can definitely take advantage of as a daily walker.
Limit Distractions
Distractions can easily break our train of thought or pull us away from study all together. Find a suitable place to study that is conducive to learning. Set some time aside, ask for some privacy and turn off your phone.
Stay Hydrated
Dehydration contributes towards fatigue and poor memory. A 2012 study, conducted by the universities of East London and Westminster, found that results improved by an average of 10% when students kept hydrated throughout exams.


Read Out Loud
n 2015, Professor Victor Boucher of the University of Montreal completed research that suggested you are 50% more likely to remember information that has been read aloud than reading to yourself. You can either find a quiet place to read aloud to yourself or read directly to a friend or family member.
Teach as You Go
A step beyond reading aloud is to describe the lesson to somebody else. Try and make the subject understood and invite questions. If you don't have the answer to the question, you have a new area of understanding to explore and study which will help to further your knowledge in a given subject.
Make Notes and Diagrams
Keep a pen and paper close to hand and be ready to note down specific areas of interest. Even if you are not artistic, a quick diagram that only you understand is a great aid to the memory and allows you to process the information in a different way.
Research
Even when you feel that you have fully understood a subject from the course material, take some time to research further by looking online, reading books or talking to others who are involved in the subject. The study group is a great place to meet like minded people who are also learning new topics.
Review
Going back over previous course topics and modules, with the benefit of newly acquired knowledge, can help us to understand the connection between subjects. If we only focus on one subject in isolation, the connection may never be made.
Create Flash Cards

Flashcards are a great way to test your knowledge. Write a subject on one side of the card and then explain the subject on the opposite side. You can either draw the cards randomly and test your own knowledge or ask a friend to help.