It's Christmas again, it comes around so quickly doesn't it?
This year is a little different for us and it might even be quieter for our beloved dogs, but there are still some things we need to keep in mind for their physical, emotional and psychological safety. Let's take a look at how to best care for and protect our dogs over the Christmas period.
Many dogs across the country will probably be getting their own roast dinner this year. Meat and vegetables will be fine, watch out for any hidden nasties in there though. Stuffing and gravy with onions for example should be avoided as onions are really bad for dogs. Watch out for anything overly salty on your dog's dinner as that can put pressure on the dog's body.


Avoid pudding for your dog too, raisins are really nasty and can cause poisoning very quickly, so no mince pies, no Christmas pudding for your dog. Similarly, chocolate is terrible for dogs and can be fatal, and certainly no alcohol. This might sound a bit boring but believe me, avoiding all these things on your dog's behalf make you a kind and excellent guardian.
It's so easy to expect our dogs to cope with everything we throw at them, including way too much noise and physical contact than they are comfortable with. Whilst we likely won't be having big Christmas parties this year, we may still have one sherry too many and be tempted to hug our dogs, telling them how wonderful they are (because of course they are) but remember that dogs are unique individuals and we shouldn't force hugs on them, just as we shouldn't on each other as it can be very uncomfortable for them (just as it can be for us). So, give them the space they need and ask their permission before you hug.
Take the crack our of your crackers this year. And don't be tempted to spice up your Christmas with fireworks, because even if your dog can cope many can't, and that's not fair. Sound sensitivity in dogs is an issue bigger than many people know and it's linked with anxiety. Being sensitive to sound has also been linked with pain in dogs by some studies and science tells us that if a dog is sound sensitive they should also be checked for joint pain. Sharp bangs can make a dog – and let's face it many people – uncomfortable and even stressed. So, try to avoid them if at all possible.
Treating your dog this Christmas can involve activity and enrichment, which most dogs love. Even if you don't have cash to buy them lots of stuff to play with, you can make toys and enrichment activities from anything at all. Old cardboard tubes can be utilised as rip open toys for a treat. Towels can be wrapped in many ways around a few tasty treats and scattering food around the home and garden will help them to relax as they find it and afterwards.
Do They Like That Santa Coat?
Ask yourself too if you really need to dress up the dog. How do they look in their Christmas outfit? Happy like the dog in the picture above or worried and uncomfortable? Whether your dog gets festive attire or not should be really up to the dog, some like it, some don't mind, and some would rather be anywhere else in the World. Your job is to assess what your dog likes and respect their wishes, if you really want to dress up your dog do make sure your dog is having fun too.


This might sound a little killjoy but in all honesty try to look at it this way. We humans are great at sabotaging ourselves, we eat the wrong things, do things we know are bad for us and persist in doing them especially when we have an excuse – like it's Christmas! Our dogs are part of our lives, and part of our family now, so let's not sabotage them too. They rely on us to keep them happy, healthy and relaxed. Let's not let them down.
Sit! Stay! Wait!
Remember To Enrol On
Your
FREE

Course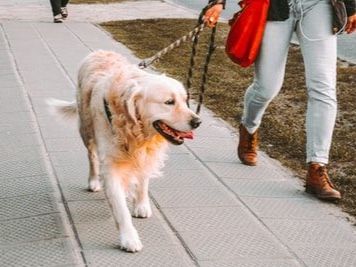 Loose Lead Walking
Help Centre
Canine Principles courses are externally accredited and have been reviewed by the accrediting body for quality and content.
Ofqual
courses are accredited by
UKRS
and meet all qualification requirements set out by the
Open College Network
. Each Ofqual course carries an 8 digit qualification number that can be referenced against the existing qualification framework.
CPD
courses are accredited by the
CPD Standards Office
.
All students must be aged 18 years+
Courses are assessed at the end of each module.
Ofqual Courses
Each module of an Ofqual course, typically includes 2 written exercises and represent the module as a whole. The final assessment for a diploma course brings together learning from all modules in the format of a thesis exercise. Word counts and referencing guidelines are made clear for each assessment. Tutors will score assessments based on the agreed learning objectives. Students must keep an evidence file of all assessments for Ofqual auditing purposes.
CPD Diploma Courses Each module of a diploma course, typically includes a set of 10 multiple choice revision questions, followed by a written exercise. Revision questions focus on individual subjects from each module. Exercises are presented as a practical or theory question and represent the module as a whole. The final assessment for a diploma course brings together learning from all modules in the format of a thesis exercise. Word counts and referencing guidelines are made clear for each assessment. Tutors will score assessments based on the agreed learning objectives.
CPD Certificate Courses The format may vary, dependent on the course. Typically, each module of a certificate course includes 5 - 10 revision questions and a single exercise. Tutors will score assessments based on the agreed learning objectives.

Self Study Courses These courses are assessed via multiple choice quizzes.
Enrol on your chosen course directly from the course overview page.
Enrolled courses can be accessed anytime via the
student dashboard
. Once you are logged in to you account, select your course and you will be taken directly to the learning materials.
Online elements require an internet connection and suitable device.
Course books can be studied online or downloaded for offline reading.
Solutions to common account issues:
Course(s) not showing on dashboard
Skill-Hub courses are only available while there is an active subscription. Check
your account
to show the most recent payments and membership expiry.
Occasionally, students have more than one account as they have signed up for a free course or newsletter with a different email. Contact us using the form to solve this issue.
Email not recognised
Check all spelling is correct. Check the email account for previous correspondence from Canine Principles. If everything seems normal, contact us using the form to solve this issue.
Password Reset
You can manage your password
here
.
Manage subscription
You can manage your subscription settings directly from your
student account page
.
We welcome students of
any age
*
,
education
or
previous experience
. Occasionally, our courses will require some prior learning. This will always be made clear in the course description.
(*All students must be aged 18 years+)
Canine Principles
Skill-Hub
is a monthly/annual subscription learning service. Membership allows unlimited* access to all self-study courses, workshops and webinars. Some courses and workshops are exclusive to the Skill-Hub, including the Skill-Hub members area, including presentations, interviews and webinars from a variety of Canine Professionals.
The 3 day free trial requires credit/debit card details to begin. Your card will be billed automatically when the trial expires and every month subsequently.
You can
manage your subscription here
.
We currently have students and graduates from over 30 countries worldwide. Online learning allows us to support all students, no matter where in the world you may be.
All courses are online study. You will not need to travel for assessments.
All Courses are written in the English language.
Ofqual course qualifications only apply to students from the UK.
Canine Principles offers both self-paced and time sensitive courses.

Self-paced - All CPD Diploma Courses, CPD Certificate Courses, Workshops, Webinars and Self Study Courses are completely self-paced learning with no deadlines for assessments or completion.

Ofqual Qualifications - All Ofqual courses inherit a 2 year registration period. The cost of registration is included with initial enrolment. When the 2 year registration period expires, students may re-register for a £70 registration fee.
Canine Principles pledges to teach only kind, force-free, positive methods that promote mental and physical well-being for dogs, in line with current scientific research. Our courses occasionally discuss the use of other training methods, with the intention of providing education in why these approaches are ineffective and harmful to learning.
You will receive
positive
,
personal feedback
from Tutors who are always available to answers any questions and guide you through your learning experience. Tutors will respond to assessments within 48 hours (72 hours during weekends)
Students are also encouraged to support each other through built in
s
tudent community
and private
Facebook Study Group
. where discussions and new information are shared daily.