There's something very special about clicker training. Whilst it's given the term training for simplicity, it's not really training at all but welfare for dogs and in fact all animals who are taught this way.

The clicker is a marker for a choice the animal makes. It's a neutral sound until the dog learns it's associated with a reward but when the association is made, the click is the equivalent of YES! THAT CHOICE EARNED A REWARD.
Clicker training is an art that can be used by a coach at any level, for amazing results and happy, confident canine students.
The clicker is linked directly with Karen Pryor clicker training but has been used much earlier. Karen bought it into the forefront of animal training and the clicker has now become a common tool for animal training. It's not just a dog tool though – because it's based in learning theory and science. All animals can be taught with a clicker, or any other neutral stimulus if it has been linked to a reward, just as we all learn from positive reinforcement we can all learn from a marker, because it's simply another branch of learning from consequences.

A clicker works like Pavlov's bell. The dog hears the sound and expects the reward. The difference is that the dog is taught to associate a positive reinforcer to the sound before the clicker is used to mark the behaviour. So where Pavlov's bell was classical conditioning because the dog was showing a physiological response, clicker training for choices is classical to operant conditioning because the dog is showing a behavioural response.

Whilst marking takes the pressure off to an extent, because it stops us worrying about getting the reward to the dog during their desired choice (therefore letting them know via positive reinforcement that it was a good choice) it has its own complexities. We have to move our bodies in ways that are most efficient for teaching, and helping the dog to learn. We also need to get the timing of the marker in at the point our dog makes their choice. A split second is crucial for effective teaching.

It might feel a bit strange, but it's a good idea to create new muscle memory if you're marking with a clicker – before you begin to teach the dog. There are so many things that can prevent clear teaching if we fumble and drop things, miss a choice or hold treats in our hands whilst our dog is learning something new.


Practicing your clicker speed is a good way to become an excellent coach. As is practicing getting your treats out of your pouch and delivering them cleanly.

For example, you can practice with another person by asking them to say numbers fast and randomly from 1-10 and each time they say 3, click. Or asking them to 5 facial expressions repeatedly or randomly and each time they poke a tongue at you – click. These exercises plus many more imaginative ones can help your brain to click finger become swifter. You can practice getting treats out of your pouch by just dropping them into a nearby bowl. Or if your dog is kibble fed just hand feed their meal one piece after another a couple of times without clicking – it will just loosen your clicker muscles and get you click and treating in a way conducive to speedy, smooth teaching. Remember not to do this around your dog as it can become confusing.

Making the association between your clicker and the reward should be done clearly. Treats should be small and really tasty and not enough to chew. The point of this is to keep the dog wanting more but prevent satiation – meaning the dog is full or has had enough for now to stops enjoying learning.

The beauty of the click is that we can use it to capture natural choices. It must first be tuned in (meaning the dog has made the connection) then it can be used at any point in any day to reinforce natural choices and behaviours. For example when your dog knows what the clicker means you can carry it on walks and click when they turn to look at you. Or if they usually bark when the postman comes – you can click just before the first bark then reinforce the by clicking and reinforcing as a quick continuous reinforcer until the postman is long gone.

Capturing is exactly what it sounds like. Reinforcing behaviour which occurs naturally without a lure or a prompt. The more a dog makes a choice on their own, the more likely they are to remember that it was reinforced. It can be tempting to ask things of our dogs so we can then reinforce them – but it's a much better learning experience if we watch and wait whilst they go about their day then click the choices we like. We humans like to try and rush – if we replace the need to act with a quiet and careful observation, we are much more likely to communicate effectively with our dogs, and most importantly to understand them.

During coaching sessions we reinforce the choices we want our dogs to repeat.


Capturing is understated in teaching, but clicker training is perfect for capturing and teaching completely natural acts which is why it can be used with any species. Try to consider that the more help a dog gets to make a choice, the more times they will need to make that choice before they have learned it.


Luring is basically hinting to the dog what we want. Whether you use it or not really depends on how much help your dog needs. Generally high confidence dogs will need little help and we can push them a little further to work it out by sitting back and waiting. Low confidence dogs are a bit different because if we sit back and wait for them to work something out they will feel that pressure greatly and try to leave or end the session. Pushing or putting pressure on a low confidence dog will cause them stress and stress is counterproductive to learning.

This is why we really need a good plan before we go into a coaching session and why when we are teaching something new, scheduling of a click and reward is so crucial for all dogs but it's really important for low confidence dogs because it prevents them having to think to hard, stops doubt creeping in and keeps their limited confidence high.
Luring is using a reward to encourage a dog into position so we can then capture the "choice" to get into that position. It's good if a low confidence dog is faltering or even if a confident dog is not getting the idea. It should be used carefully though and not over-used because a fast and effective capturing session is better for the dog, the learning process and the final result.
Sit! Stay! Wait!
Remember To Enrol On
Your
FREE

Course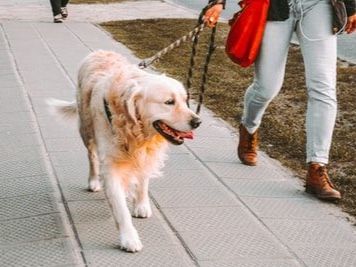 Loose Lead Walking
Help Centre
Canine Principles courses are externally accredited and have been reviewed by the accrediting body for quality and content.
Ofqual
courses are accredited by
UKRS
and meet all qualification requirements set out by the
Open College Network
. Each Ofqual course carries an 8 digit qualification number that can be referenced against the existing qualification framework.
CPD
courses are accredited by the
CPD Standards Office
.
All students must be aged 18 years+
Courses are assessed at the end of each module.
Ofqual Courses
Each module of an Ofqual course, typically includes 2 written exercises and represent the module as a whole. The final assessment for a diploma course brings together learning from all modules in the format of a thesis exercise. Word counts and referencing guidelines are made clear for each assessment. Tutors will score assessments based on the agreed learning objectives. Students must keep an evidence file of all assessments for Ofqual auditing purposes.
CPD Diploma Courses Each module of a diploma course, typically includes a set of 10 multiple choice revision questions, followed by a written exercise. Revision questions focus on individual subjects from each module. Exercises are presented as a practical or theory question and represent the module as a whole. The final assessment for a diploma course brings together learning from all modules in the format of a thesis exercise. Word counts and referencing guidelines are made clear for each assessment. Tutors will score assessments based on the agreed learning objectives.
CPD Certificate Courses The format may vary, dependent on the course. Typically, each module of a certificate course includes 5 - 10 revision questions and a single exercise. Tutors will score assessments based on the agreed learning objectives.

Self Study Courses These courses are assessed via multiple choice quizzes.
Enrol on your chosen course directly from the course overview page.
Enrolled courses can be accessed anytime via the
student dashboard
. Once you are logged in to you account, select your course and you will be taken directly to the learning materials.
Online elements require an internet connection and suitable device.
Course books can be studied online or downloaded for offline reading.
Solutions to common account issues:
Course(s) not showing on dashboard
Skill-Hub courses are only available while there is an active subscription. Check
your account
to show the most recent payments and membership expiry.
Occasionally, students have more than one account as they have signed up for a free course or newsletter with a different email. Contact us using the form to solve this issue.
Email not recognised
Check all spelling is correct. Check the email account for previous correspondence from Canine Principles. If everything seems normal, contact us using the form to solve this issue.
Password Reset
You can manage your password
here
.
Manage subscription
You can manage your subscription settings directly from your
student account page
.
We welcome students of
any age
*
,
education
or
previous experience
. Occasionally, our courses will require some prior learning. This will always be made clear in the course description.
(*All students must be aged 18 years+)
Canine Principles
Skill-Hub
is a monthly/annual subscription learning service. Membership allows unlimited* access to all self-study courses, workshops and webinars. Some courses and workshops are exclusive to the Skill-Hub, including the Skill-Hub members area, including presentations, interviews and webinars from a variety of Canine Professionals.
The 3 day free trial requires credit/debit card details to begin. Your card will be billed automatically when the trial expires and every month subsequently.
You can
manage your subscription here
.
We currently have students and graduates from over 30 countries worldwide. Online learning allows us to support all students, no matter where in the world you may be.
All courses are online study. You will not need to travel for assessments.
All Courses are written in the English language.
Ofqual course qualifications only apply to students from the UK.
Canine Principles offers both self-paced and time sensitive courses.

Self-paced - All CPD Diploma Courses, CPD Certificate Courses, Workshops, Webinars and Self Study Courses are completely self-paced learning with no deadlines for assessments or completion.

Ofqual Qualifications - All Ofqual courses inherit a 2 year registration period. The cost of registration is included with initial enrolment. When the 2 year registration period expires, students may re-register for a £70 registration fee.
Canine Principles pledges to teach only kind, force-free, positive methods that promote mental and physical well-being for dogs, in line with current scientific research. Our courses occasionally discuss the use of other training methods, with the intention of providing education in why these approaches are ineffective and harmful to learning.
You will receive
positive
,
personal feedback
from Tutors who are always available to answers any questions and guide you through your learning experience. Tutors will respond to assessments within 48 hours (72 hours during weekends)
Students are also encouraged to support each other through built in
s
tudent community
and private
Facebook Study Group
. where discussions and new information are shared daily.